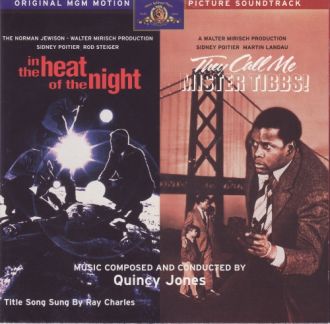 John Ball (1911-1988), a kalandos életű amerikai író (volt újságíró, rádióriporter, az Űrkutatási Tudományos Intézet propagandafőnöke is) számos irodalmi díjat elnyert regénye (In the Heat of the Night/Forró éjszaka) szolgált alapjául Norman Jewison öt Oscar-díjas, 1967-ben bemutatott filmjének.
A filmben gyilkosság történik egy amerikai kisvárosban, Mississippi államban. Colbert építész az áldozat, Chicagóból. Ugyanezen éjszaka az állomáson elfogják Virgil Tibbst (Sidney Poitier), a néger férfit, s bekísérik a rendőrőrsre. Bill Gillespie (Rod Steiger) a helyi rendőrfőnök fogva akarja tartani egyszerűen azért, mert néger. Ám egy pillanat alatt kiderül, hogy Virgil Tibbs rendőr, s kíváló nyomozó Memphisből. Colbert egy gyárat akart felépíteni itt, ahol sok színes bőrű kapott volna állást. Talán ez lett a veszte. Nem tudni. Bill rendőrfőnök ki akarja utasítani a néger nyomozót, Colbert felesége (Lee Grant) azonban ragaszkodik, hogy a nyomozást Ő vezesse.
A filmet 2002-ben a Kongresszusi Könyvtár beválasztotta a nemzeti filmarchívumba, mint "kulturálisan, történelmileg, vagy esztétikailag jelentős művet".
A film sikere alapján 1970-ben Gordon Douglas rendező folytatást is készített They Call Me Mister Tibbs!/Mr. Tibbs nyomoz címmel.
Mindkét film zenéje Quincy Jones (1933) munkája.
In The Heat Of The Night – OST (1967)
01 – In The Heat Of The Night (Vocal By Ray Charles)
02 – Peep-Freak Patrol Car
03 – Cotton Curtain
04 – Where Whitey Ain't Around
05 – Whipping Boy
06 – No You Won't
07 – Keep Cool *
08 – Nitty Gritty Time
09 – It Sure Is Groovy! (Vocal By Gil Bernal)
10 – Bowlegged Polly (Vocal By Glen Campbell)
11 – That's Enough For Me *
12 – Shag Bag, Hounds & Harvey
13 – Chief's Drive To Mayor
14 – Give Me Until Morning
15 – The Wrong Man *
16 – On Your Feet, Boy!
17 – Blood & Roots
18 – Mama Caleba's Blues (Piano Solo by Ray Charles)
19 – Foul Owl (Vocal By Boomer & Travis)
20 – Mister Tibbs! *
They Call Me Mister Tibbs! – OST (1970)
21 – Call Me Mister Tibbs (Main Title)
22 – 'Rev' Logan (Organ Solo)
23 – No Secrets *
24 – Blues For Mister Tibbs
25 – Fat Poppadaddy
26 – Anybody Could *
27 – Soul Flower
28 – Call Me Mister Tibbs (Main Title)
29 – Black Cherr
30 – Do It Properly *
31 – Family Man
32 – Side Pocket
33 – Why, Daddy?
34 – Wasting Time *
35 – Call Me Mister Tibbs (End Title)
Tracks with *: Original Incidental Dialogue from the Films
https://zenekucko.com/07062
Találatok: 1