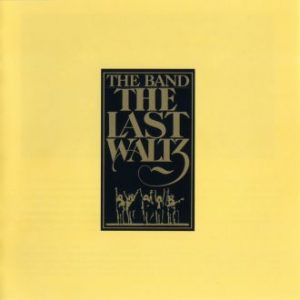 Az 1952-ben alapított brit könnyűzenei szaklap, a New Musical Express (NME) összegyűjtötte és rendszerezte a legtöbb példányszámban elkelt koncertalbumokat The 50 Greatest Live Albums Ever cím alatt.
A listában a harmincharmadik (33) helyen az amerikai The Band The Last Waltz című albuma áll. 
1976 November 25-én San Franciscóban, a Winterland Ballroom-ban véget ért egy 16 éves történet: a kanadai The Band együttes búcsúkoncertet adott. A koncertről Martin Scorsese filmet készített.
A koncerten a legendás zenekar tagjai mellett felléptek a korabeli rockélet jelesei, többek között Bob Dylan, Paul Butterfield, Neil Young, Emmylou Harris, Ringo Starr, Ronnie Hawkins, Dr. John, Joni Mitchell, Van Morrison, Muddy Waters, Ronnie Wood, Neil Diamond, Bobby Charles, The Staple Singers, és Eric Clapton is.
Amerikai meghatódás
San Francisco, Holiday Inn Hotel, 1974. augusztus eleje, vasárnap reggel, napsütés, mintha a reggeli jobb volna, a hatvan körüli amerikai srácok átöltöznek vasárnapiba: halvány rózsaszín nadrág, pepita zakó, pertli nyakkendő, csíkos kalap. Mellettük leírhatatlanul fiatal, hasonlóan csinos, szintén színkiválasztásos, bájosán csacsogó, velük egykorú feleségük. A Locomotív amerikai technikusa, Licq felsír, hogy a protézisek csattogásától nem hallja a Wurlitzert, a szálloda parkolójából félóránként induló, nagy személyszállító helikopter két méter magasból visszaesik, és megzavarja a vasárnapot. Mentők, tűzoltók, nincs nagyobb baj, s végre kihajthatunk a garázsból. Elhagyjuk a Keystone Clubot, ahol egy hétig játszottunk Jerry Garciával, a Greatful Dead gitárosával, akit a hippik San Francisco királyának koronáztak. Felszisszenés a Chinatown egyik kereszteződésénél. Kicsi klub, tegnap éjjel Les McCan játszott itt, és a koncert közönsége átalakult háromszáz tagú kórussá – éjféli jazz-mise –, és lévén fehérek, Somlóval csak a csapóajtó mögül bámulhattuk az egészet.
És röpül a nagy dög autó, most már a nyolcsávoson, és hopp, már itt is vagyunk. Oakland, a stadion, hetvenezer ember, és az eredményjelző táblán két világcsúcs; Crosby, Stills, Nash & Young, és a BAND! Hetvenezer ember, fejenként tíz dollár, az ugye, hétszázezer, ebből jó, ha a zenészek kapnak hétezret, viszont a jegyüzérnek, szendvicsárusnak (zsebtolvajnak, fénykép-, poszter-, jelvényárusnak stb.) bejön ez a mai koncert. Hetvenezer ember a tűző napon – coca-cola-coca-cola-coca-cola. A zene csodálatos. BAND négy, a többiek öt órát játszanak.
Budapest, 1979. Martin Scorsese filmjénél a kicsiny vetítőben rengetegen szorongunk, egy pillanatra jóleső érzés; ennyire népszerű lenne kedvenc BANDám? És kezdődik, megmozdul a vászon, az LGT neveletlen tagjai felhördülnek, kezdődő dobogás a zene ütemére, de egy úr ránk szól, valaki üzen a gépésznek, hogy vegye halkabbra, és a félrevezetett nézők csak várják, csak várják Az utolsó valcert, de a versenypár, hátán a tizenhetes számmal, csak nem akar megjelenni. Akik ebbe beletörődnek, elmennek, de a többség marad, és elkezdi élvezni a váratlant, a gépész is visszanyomja a hangerőt, kijön a terembe, és oldalt leül. Barátom, aki rendező, oldalamat böködi – ez ki? ez ki? Ez Neil Young, aki egy kicsit túladagolva érkezik a színpadra, hogy elénekelje az Eper és vérből is ismerhető, minden idők egyik legfontosabb amerikai dalát, a Helplesst. És jönnek a sztárok egymás után, egy korszak nagyjai, hogy egy utolsó keringőt táncoljanak a zenekarral, mert a BANDa tizenhat év után abbahagyja, és nincs folytatás. Nincs folytatás egyszerűen azért, mert amit ők kitaláltak, azt nem tudja senki más, ez a koncert a bizonyíték isten és közönség előtt.
És jönnek a sztárok, hogy tiszteletüket tegyék (vagy ők lehessenek megtisztelve?) a Nagyok előtt, csak jönnek, csak jönnek, Dr. John, a New Orleans-i legenda, és Neil Diamond, akiről eddig azt hittem, hogy ő az eredeti amerikai giccs (de nem, bocsánat), és Joni Mitchell, a First Lady, ő most már csak a novelláit énekli. Újabb böködés, és kicsi magyarázat a rendezőnek, és jönnek a sztárok, az igaziak, a kitalálók, a feltalálók, a még az igaziak, az úttörők, akik a hatvanas-hetvenes évek millióinak jelentették Amerikát. Paul Butterfield, a woodstocki veterán Muddy Waters, a néger nagyapa, és hát természetesen a BAND. A BAND, a zenészek zenészei, ahogy a Melody Maker kritikusa nevezte őket.
És itt álljunk meg egy pillanatra. Ez a Zenekar azért lett az, ami, mert az egyszerűt játssza tökéletesen, ízesen, utánozhatatlanul, vagyis zseniálisan, mert ha ők játszanak, öröm van a zenében. Ők mindent tudnak, amit ebben a zenében tudni lehet, de nem akarják egyszerre eljátszani, és ez a nagy dolog. És most mehetünk tovább, mert a színpadon ott a gyűrött csillag, a költő, a jelkép, Bob Dylan, akinek rendezetlen zenéjét a BAND szedi ráncba. És lassan visszasompolyog az öltözőkből a sok sztár, hogy még szebbé tegye a BAND múltját, és a saját jövőjét, és együtt énekel mindenki, a falikarok, csillárok, és reflektorok fényében. De igazán csak a zene ragyog. És még Ringó is itt van (oh ye, oh ye), és a rock & roll hangjai közt ott kavarog a levegőben a láthatatlan utolsó keringő. Igazi amerikai meghatódás.
Vége-főcím. Kifut a film. Barátom az ősz haiú mozigépész kezembe nyomja a koncertről készült lemezt. Utolsó valcer, BAND. Mehetünk haza. Kár, hogy vége. (Presser Gábor)
https://zenekucko.com/04433-34
Találatok: 23