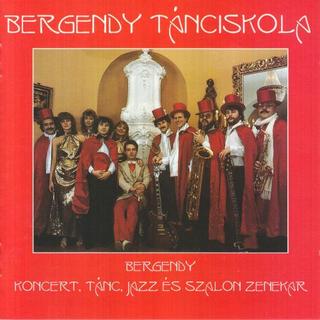 Bergendy. A név hallatán talán sokaknak eszébe jut a magyar televízió híres táncoktató műsora, a Tánciskola, az Új Futrinka utca, a Szervusz, Szergej! vagy az Ólomkatona című régi sorozatok. A Tánciskola létrejöttéről így vall az együttes alapítója: "Egyik nap a nagyfiam hetedikes korában sírva jött haza az iskolából és azt mondta: Apa, képzeljétek, ott voltak a tánciskolától és megkérdezték, hogy ki akar táncolni. Én annyira szerettem volna, de nem mertem, mert a negyvenöt fős osztálylétszámból huszonhárom lány mind jelentkezett, de egy fiú sem, és olyan ciki lett volna elmenni, pedig annyira szerettem volna. Hosszúkat hallgattam, másnap bementem a televízióba. Jó volt a kapcsolatunk a televíziósokkal, hiszen mi mindent lelkesedésből csináltunk. Megkerestem az illetékeseket az ötletemmel, csináljunk egy tánciskolát és elmondtam a saját gyerekem történetét." A Tánciskola aztán újabb váltást hozott az együttes életében, eredménye lett a Bergendy Koncert-, Tánc-, Jazz- és Szalon Zenekar megalakulása.
Tracklist:
01 – Én táncolnék veled… (slowfox)
02 – Ez nem való (quickstep)
03 – Kinyitott a Chicago (charleston)
04 – Szerelmi történet (angolkeringő)
05 – Stefi bohóc (rock and roll)
06 – Álom volt (bécsi valcer)
07 – Polka (polka)
08 – Az igazi tangó (argentín tangó)
09 – A buszjegy (disco)
10 – Miss Twist (twist)
11 – Áll a botrány (gyors rumba)
12 – Románc (rumba bolero)
13 – Éjszaka a körúton (jive)
14 – Riói karnevál (szamba)
15 – Dolorita (paso doble)
16 – Mondd, Jucika (cha-cha-cha)
17 – Tengerészdal (beguine)
18 – Valaha, valahol (mambó)
19 – Csacska dalocska (cousa)
20 – Rémes délelott (boogie-voogie)
21 – Sindy, a szomszédlány (gyors rock and roll)
22 – Esti blues (slow blues)
23 – Skake 'Round the Clock (shake)
24 – Ünnep (salsa)
25 – Csárdás (csárdás)
26 – Szignál (break dance)
https://zenekucko.com/bertanc
Ha kicsomagolásnál jelszót kér, írd be a Zenekucko szót a megfelelő helyre.
Találatok: 9