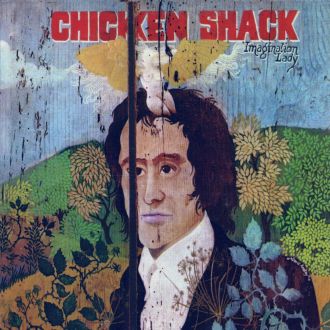 Ha nem is volt a blues és a bluesrock zászlóshajója a brit Chicken Shack együttes, azért Stan Webb énekes-gitáros, szerző és Christine Perfect énekes billentyűs révén mindenképpen nyomot hagyott a műfaj európai történetében. Stan Webb 1996-ban egy bluesfesztiválon Magyaroszágon is fellépett aktuális csapatával.
A Birminghamben alakult banda "őstörténete"a hatvanas évek közepéig nyúlik vissza. Stan Webb a The Sonds of Blue nevű csapatban már együtt zenélt Andy Sylvester basszusgitárossal és Christine Perfecttel. Tagja volt az együttesnek Chris Wood, aki később a Traffic fúvósa lett. Hírlik a zenekarról, hogy egy csirkeól volt az első "próbahelyisége" – innen a híressé vált név is.
Ez formáció nem volt hosszú életű: Webb és Sylvester Alan Mordey dobossal együtt Hamburgba szegődött szerencsét próbálni, mint sok más kezdő brit együttes akkoriban. A három zenész1967-ben tért vissza Angliába, ahol Mike Vermon, a Blue Horizon kiadóhoz szerződtette a fiúkat. A következő évben csatlakozott újra Christine Perfect is, ha nem is túl hosszú időre, s megkezdődött a lemezgyártás. Már (újjá)alakulásuk évében felléptek a windsori Jazz and Blues Festivalon.
Stan Webb és társai a chicagói blues szerelmesei voltak, többek között Buddy Guy és Freddie King munkásságát tartották követendőnek. Külön szerencséje volt Webbéknek, hogy kísérhették Freddie Kinget, amikor példaképük a hatvanas évek végén egy turnéra átrándult Angliába. A Chicken Shack a saját dalok mellett feldolgozott klasszikus blues-témákat is – kitűnő volt előadásukban az Etta James-től ismert I'd Rather Go Blind, amely 14. helyre került a brit listán.
Első lemezük, a 40 Blue Fingers, Freshly Packed and Ready to Serve figyelmet keltett, 12. lett a brit listán. Második lemezük, amelyet sokan elsőnek tartottak, az 1969-es OK Ken a 9. helyig jutott, és az ugyanabban az évben a boltokba került a 100 Ton Chicken, ennek ellenére nem győzte meg a kritikusokat, habár mindkettő elég jól fogyott.
Már 1968-ban több változás történt a doboknál, rövid időre felbukkant Hughie Flint, aki számos neves rock- és bluescsapatot erősített.1969-ben a Fleetwood Mac-ehez távozott Christine Percfet, az alapítók közül magára maradt Stan Webb.
A zenekar történetének első fejezete 1973-ig tartott. Néhány évig Stan Webb szólóban próbálkozott, de 1976-ban – igaz, teljesen más tagokkal – életre hívta a Chicken Shacket. a kései években is jó néhány kitűnő zenész szövetkezett Webb-bel: köztük Keef Hartley dobos, valamint a Budapesten is többször járt Miller Anderson gitáros. Az új évezred első évtizedére Webb mellet Garry Davis gitáros, James Rudige basszusgitáros vitte tovább a Chicken Shack nevet, s Mike Jones dobos is éveken át volt a Chicken Shack tagja.
Az együttes megalakulásától több mint húsz sorlemezt produkált, s kiadóik érdemesnek tartották megjelentetni válogatásaikat is. A Chicken Shack kitűnő zenészekkel dolgozott, s a jobb kiadóktól is bizalmat kapott.(A felfedező Blue Horizon mellett például a Columbia, az Epic, a Derram,az RCA hozta lemezeiket.) A kortársak – a Fleetwood Mac és mások – összességében erősebbnek bizonyultak.
(Kovács Miklós)
Stan Webb ezt a lemezét a trióvá alakult zenekarával készítette.
A trió tagjai:
Stan Webb – gitár, ének; John Glascock – basszusgitár és Paul Hancox – dobok.
A számok:
01 – Crying Won't Help You Now
02 – Daughter Of The Hillside
03 – If I Were A Carpenter
04 – Going Down
05 – Poor Boy
06 – Telling Your Fortune
07 – The Loser
Bonus tracks:
08 – Poor Boy (Single Version)
09 – Telling Your Fortune (Single Version)
https://zenekucko.com/00752
Találatok: 6