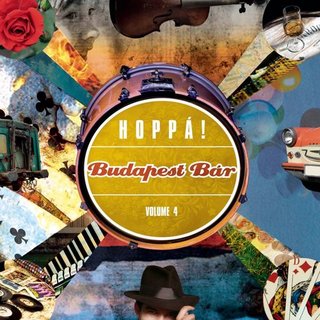 2011. május közepén sorban a negyedik nagylemezével jelentkezett az utóbbi évek egyik legeredetibb és legüdítőbb produkciója, a Budapest Bár. A merítés ezúttal igazán széles: Jávor Pál, Kabos Gyula, Harangozó Teri, a Hungária, a Beatles, a Doors, valamint többek között az Európa Kiadó ismert dalai jelennek meg hamarosan egy albumon, amely a Hoppá! címet viseli.
A cél az volt, hogy olyan kedvenc dalokat elevenítsenek fel, fogalmazzanak át a lemezen, amelyek vagy valamelyik nép cigánykultúrájához kötődnek, vagy éppen bennük rejlik a lehetőség, hogy egy cigányzenekar átfogalmazza saját ízlése szerint. A merítés végül igen szélesre sikeredett: többek között Jávor Pál, Kabos Gyula, Harangozó Teri, a Hungária, a Beatles, a Doors, az Európa Kiadó ismert dalai – Akácos út, Alabama Song, Ördögtánc, Bubamara, Tranzisztorkor hajnalán, Surda dala, Lövölde tér, Bolyongok a város peremén című szerzemények kerültek feldolgozásra, amelyek a változatosság ellenére – vagy éppen ezért – szépen elférnek egymás mellett egy lemezen.
A stílusok keveredésében sem szűkölködik az album: orosz és szerb cigány, gypsy swing, magyar cigány, latin, rock and roll, reggae, underground, kuplé és még sok más stílus is felfedezhető rajta. Hogy mitől lesz ez a sokszínűség mégis egységesen kiváló? Amitől a Budapest Bár eddig is egyedi szórakoztatást nyújtott: a kitűnő hangszeres tudástól, a minőségi hangszereléstől, a szokatlan zenei ötletektől és a nagyszerű előadóktól. Humor, kreativitás, pimaszság és könnyedség jellemzi ezt a lemezt is – és mindenekelőtt a zene és a dalok szeretete.
Mindemellett talán nem túlzás kijelenteni, hogy ez a Budapest Bár eddigi legérettebb és legmesszebb mutató lemeze, a zenekar új hangszerelésein ugyanis jól hallható az a bátorság, amit az előző lemez adott nekik azzal, hogy a kávéházi muzsikálásba sikeresen beemelték a jazz és a komolyzene stílusjegyeit, és mostanra az énekesekkel együtt sokkal merészebben rugaszkodnak el az eredeti témáktól, mint tették azt az első lemezeken.
A zenei közjátékok, az improvizált részek olyan változatossá teszik a viszonylag hosszú (22 dalt tartalmazó) anyagot, hogy a hangulat nem ül le egy percre sem. Ezt szerencsésen segíti, hogy az énekesek hallhatóan nem a magyar operett- vagy színész előadói hagyományoknak próbálnak megfelelni, hanem nagyon karakteresen hozzák úgy a saját figurájukat, hogy ezek a dalok új életre kelnek az előadásukban; közben az időben és térben is sokfelől érkezett zenei anyag mégis egységesnek hat.
Úgy tűnik mostanra a Budapest Bár úgy lett előremutató és a sokféleségében is egységes produkció, hogy játszi könnyedséggel közlekedik az utolsó száz év zenei hagyományaiban, és az ő példájuk is mutatja: egy jó dal nem csak azon a nyáron lehet sláger, amikor készült, ezek a dallamok, harmóniák, szövegek mind-mind újra és újra felfedezésre méltóak.
Farkas Róbert – hegedű, gitár, ütőhangszerek
Farkas Mihály – cimbalom
Ökrös Károly – harmonika
Farkas Richárd – bőgő
Kisvári Ferenc – dob, ütőhangszerek3
Tracklist:
01 – Nem mondhatom el
02 – A pénzemet én máma mind elmulatom
03 – Lövölde tér
04 – Ha én gazdag lennék
05 – Hajnali ének
06 – Kék vonat (Goluboj vagon)
07 – Fekete szemek (Ocsi csornije)
08 – Azt hiszem, hogy (Tüz)
09 – Például te, te, te
10 – Alabama Song
11 – Chase the Devil
12 – Bolyongok a város peremén
13 – Akácos út
14 – Rózsalevél
15 – Surda dala (Adio – Vruc Vetar)
16 – A tranzisztorkor hajnalán
17 – Szalonspicc
18 – Szilvafácska (Bubamara)
19 – Girl
20 – Toporzékolok a vágytól
21 – Libertango (Short Cover)
22 – Ördögtánc
https://zenekucko.com/bubav4ho
Ha kicsomagolásnál jelszót kér, írd be a Zenekucko szót a megfelelő helyre.
Találatok: 16