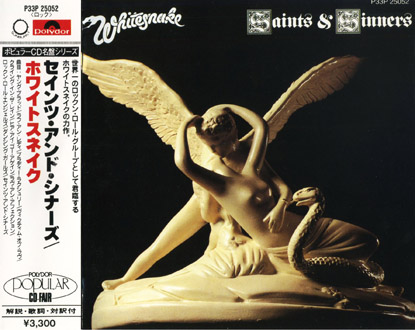 Sokszor alulértékelik ezt a Whitesnake-albumot, pedig olyan klasszikusok eredeti felvétele is megtalálható rajta, mint például a később nagy siker lett Crying In The Rain vagy a Here I Go Again.
A David Coverdale (ex-Deep Purple) karizmatikus énekes vezette angol rockcsapat, a Whitesnake 1982-re már jelentős sikereken volt túl. Két korábbi lemezük (Ready An' Willing és Come An' Get It) kiválóan szerepelt a listákon, koncertjeik telt házakat vonzottak, úgyhogy a banda úgy tűnik, révbe ért. Mindez biztató lehetett egy új album felvétele előtt. Ám mégis, 1981 végére, amikor elkezdődtek a stúdiómunkái a Saints & Sinners lemeznek, már repedések mutatkoztak a csapatban. Ahogy Coverdale mondta, a stúdiómunkák közben nem lehetett érezni azt a játékosságot, azt a humort, amely jellemezte a bandát korábban. Így a számok feljátszása is csak vontatottan haladt, így nem csoda, ha a lemez elkészítésének végére a csapat újjáalakult. Távozott Ian Paice (ex-Deep Purple) dobos, Bernie Marsden, a nagyszerű gitáros és dalszerző, illetve Neil Murray nem kevésbé ragyogó basszusgitáros.
Helyettük azonban szintén nagy nevek érkeztek: a (sajnos már elhunyt) Cozy Powell dobos, a Trapeze egykori gitárosa, Mel Galley (aki szintén nagyon jó dalokat tud írni) és a dzsesszkörökben is jól ismert basszusgitáros, Colin "Bomber" Hodgkinson. Velük azonban csak nagyon kevés felvétel készült már az új albumhoz, tulajdonképpen csak néhány háttérvokál, és a Saints & Sinners album így még a régi felállású csapat utolsó munkája. Ezen az anyag, amely végül 1982 novemberében jelent meg, még bőven magán hordja a rhythm and blues stílusjegyeit, a dübörgő és feszes basszust, a játékos dobolást, a számok alapját adó orgona- és billentyűsszőnyeget (a szintén ex-Deep Purple tag, Jon Lord jóvoltából), de már megjelennek a Whitesnake-re később annyira jellemző hard rock, sőt már-már heavy metal beütések is.
01. Young Blood
02. Rough An' Ready
03. Bloody Luxury
04. Victim Of Love
05. Crying In The Rain
06. Here I Go Again
07. Love & Affection
08. Rock 'N Roll Angels
09. Dancing Girls
10. Saints An' Sinners
Producer‎: ‎Martin Birch
https://links.snahp.it/NilBz3aObrh0cffVFcDPGJPcWcKtHro0ZTr
original date: 2019/05/09
---
---
---
Találatok: 2