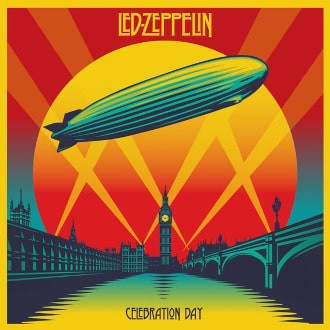 2006. október 29-én a New York-i Beacon Theatre-beli Rolling Stones koncerten elesik, beveri a fejét majd kómába esik és végül 2006. december 14-én meghal az Atlantic Records legendás török származású társalapítója  Ahmet Ertegun. Az ő emlékére rendezték meg 2007. december 10-én a londoni O2 Arénában a Led Zeppelin főszereplésével a Celebration Day nevű koncertet.
John Bonham 1980 szeptemberi halála óta ez a koncert volt a második, ahol a Zeppelin fellépet (1985-ben Phil Collins dobolt a Live Aid koncerten). A koncert helyfoglalására 20 millió igény érkezett a lehetséges 16 ezer helyre, ezért a szervezők online sorsoláson osztották ki a jegyvásárlási lehetőségeket. A koncert érdekessége még, hogy a dobokat John Bonham fia Jason püfölte.
A koncert a kritikusok szerint is fergetegesre sikerült és természetesen mind a képi, mind a hang anyagot rögzítették. A koncert film 2013-ban elnyert az év legjobb klasszikus Rock and Roll film díját, a CD pedig szinte minden komolyabb piacon, ahol megjelent arany, platina, gyémánt eladásokat produkált. Jómagam annak a sok milliónak a táborát gyarapítom, aki szívesen ott lett volna, de a sors nem így akarta. Viszont a koncert film ott figyel kedvencek között a multimédia lejátszómon a nappaliban és amikor a család nincs otthon, akkor ami a csövön kifér … :). Aki teheti nézze meg a koncert filmet, hiszen genetikailag ez majdnem a teljes Led Zeppelin és nagy valószínűséggel utoljára együtt a színpadon!
A kiadvány zenei anyaga:
01 – Good Times Bad Times
02 – Ramble On
03 – Black Dog
04 – In My Time Of Dying
05 – For Your Life
06 – Trampled Under Foot
07 – Nobody's Fault But Mine
08 – No Quarter
09 – Since I've Been Loving You
10 – Dazed And Confused
11 – Stairway To Heaven
12 – The Song Remains The Same
13 – Misty Mountain Hop
14 – Kashmir
15 – Whole Lotta Love
16 – Rock And Roll
Az előadók:
Robert Plant – vocals
Jimmy Page – guitars, Theremin
John Paul Jones – bass guitar, Fender Rhodes, Mellotron
Jason Bonham – drums, percussion, backing vocals
Kellemes zenehallgatást!
https://justpaste.it/2gb9a
Találatok: 101