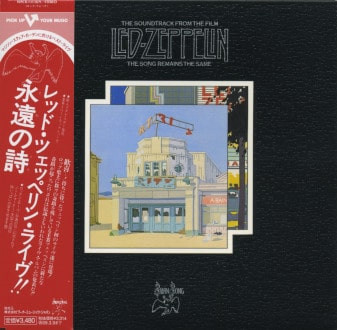 Valamikor a 70-es évek végén – középiskolás koromban – néhány hét alatt 37-szer (igen tényleg 37-szer) néztem meg a Dal ugyan az marad című zenés angol filmet (így szólt a Pattantyús Miklós által tervezett filmplakát).
Egyszerűen nem tudtam betelni vele, volt olyan nap, hogy háromszor beültem a Mátra moziba a Körúton (persze a suli helyett) és olyan is akadt, hogy az Ifjúsági Park hangulatát idézve az első sorból néztük a haverokkal almaboros üveggel a kezünkbe. Aztán volt egy hosszú szünet és amikor legközelebb jó húsz-huszonöt évvel később megnéztem DVD-ről, akkor az első kérdésem magamban az volt, hogy kik ezek a tejfeles szájú ifjoncok itt a TV-ben?
De elég a múltidézésből. A koncertfelvétel (mind a film, mind zenei anyag) a Led Zeppelin kilencedik észak-amerikai turnéjának utolsó állomásán New York-ban a három egymást követő napon lenyomott koncerteken került felvételre a Madison Square Garden-ben. Bár a kritikusok éppen fanyalogtak az akkor kiadott Houses Of The Holy lemezen, ez az amerikai fiatalokat cseppet sem érdekelte, mert ezen a turnén még a Beatles telt házas koncertjeit is lenyomták a fiúk (Miami-ban 56 ezer ember előtt léptek fel).
Amikor ez a zene szóba kerül, akkor a legtöbben az 1976-ban kidott dupla vinyl-re vagy a kicsit későbbi dupla CD-re gondolnak a klasszikus 9 sávval, ami a film Soundtrack változata, de létezik egy 15 sávos dupla CD-s kiadvány is, ami a mai bejegyzés tárgya.
A kiadvány zenei anyaga:
Első lemez
01 – Rock and Roll
02 – Celebration Day
03 – Black Dog (Previously Unreleased)
04 – Over the Hills and Far Away (Previously Unreleased)
05 – Misty Mountain Hop (Previously Unreleased)
06 – Since I've Been Loving You (Previously Unreleased)
07 – No Quarter
08 – The Song Remains the Same
09 – The Rain Song
10 – The Ocean (Previously Unreleased)
Második lemez
01 – Dazed And Confused
02 – Stairway To Heaven
03 – Moby Dick
04 – Heartbreaker
05 – Whole Lotta Lov
Az előadók
Robert Plant – vocals
Jimmy Page – guitars, Theremin
John Paul Jones – bass guitar, Fender Rhodes, Mellotron
John Bonham – drums, percussion, backing vocals
Kellemes zenehallgatást!
https://justpaste.it/8c7ng
Találatok: 132