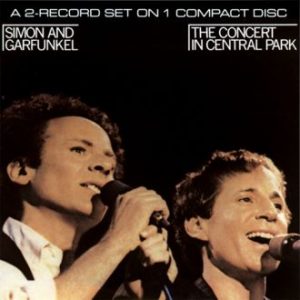 Az 1952-ben alapított brit könnyűzenei szaklap, a New Musical Express (NME) összegyűjtötte és rendszerezte a legtöbb példányszámban elkelt koncertalbumokat The 50 Greatest Live Albums Ever cím alatt. A listában a negyvenegyedik (41) helyen az amerikai Simon and Garfunkel duó The Concert in Central Park című albuma áll.
Az 1970-ben felbomlott duó 1981. szeptember 19-én a new yorki Central Parkban szabadtéri koncertet adott.
Az érdeklődés mértékét jelzi, hogy az előadást több mint 500.000 néző élvezte végig.
A kisérő zenészek közül csak kettőt emelnék ki: a dobok mögött Steve Gadd ült, s a basszeros Anthony Jackson volt.
Even though it was recorded years after the two had parted ways, it was a beautiful reunion, recorded at a free concert in front of more than 500,000 people. They even sang duet versions of some of Simon's solo tracks.
A dalok:
1. "Mrs. Robinson" – 3:52
2. "Homeward Bound" – 4:22
3. "America" – 4:47
4. "Me and Julio Down by the Schoolyard" – 3:22
5. "Scarborough Fair" (traditional, arr. Paul Simon and Art Garfunkel) – 3:52
6. "April Come She Will" – 2:37
7. "Wake Up Little Susie" (Felice and Boudleaux Bryant) – 2:19
8. "Still Crazy After All These Years" – 4:04
9. "American Tune" – 4:33
10. "Late in the Evening" – 4:09
11. "Slip Slidin' Away" – 4:54
12. "A Heart in New York" (Benny Gallagher, Graham Lyle) – 2:49
13. "Kodachrome/Maybellene" (Simon, Chuck Berry, Russ Fratto, Alan Freed) – 5:51
14. "Bridge over Troubled Water" – 4:48
15. "50 Ways to Leave Your Lover" – 4:23
16. "The Boxer" – 6:02
17. "Old Friends" – 2:57
18. "The 59th Street Bridge Song (Feelin' Groovy)" – 2:01
https://zenekucko.com/04383
Találatok: 9