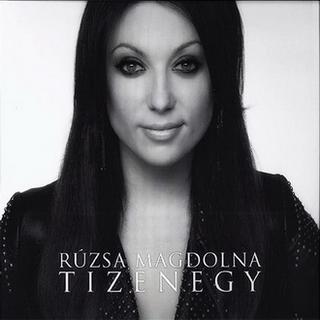 2012. november 11-én került az üzletekbe Rúzsa Magdolna ötödik önálló albuma, a Tizenegy. Mint minden új lemez, a Tizenegy is az énekesnő pályafutásának fontos állomása: lezár egy korszakot, ugyanakkor elindít egy újat. Az elmúlt évek során Rúzsa Magdolna töretlenül igazolta, hogy tehetségét és rendkívüli előadói képességét mind szélesebb körben tudja kamatoztatni. Az átélt élményekből kelt érzelmek és gondolatok dalokba sűrítése a vadonatúj album.
Szerelem, szenvedély, bánat, öröm – számtalan érzés, ami bennünk is él, amelyeket nap, mint nap magunk is megtapasztalunk, csak talán nem merünk belegondolni, kiváltképpen nem merünk mesélni róluk. Rúzsa Magdolna helyettünk is megteszi ezt leheletfinoman szőtt, féltő és óvó gondoskodással sodort fonalára fűzött 11 gyöngyszemben.
A lemez zeneszerzői Madarász Gábor, Presser Gábor és egy dalban Rúzsa Magdolna. A dalszövegek Madarász Gábor, Presser Gábor, Rúzsa Magdolna, valamint Kowalsky és Geszti Péter alkotásai. A lemezfelvételen Rúzsa Magdolna zenekarának tagjai, valamint Presser Gábor működtek közre. A borító Nagy Zoltán művészi munkáját dicséri.
Nem kell szégyellni, ha egy-egy dal eltalál és betalál: az új Rúzsa Magdolna lemez bizonyítéka annak, hogy nem olyan rideg és elidegenedett a világ, amely körülvesz bennünket!
A lemezen hallható dalok:
01 – Nevetni magadon
02 – Szerelem
03 – Nem kelek már fel
04 – Viaszmadár
05 – Szabadulj el!
06 – Boldogsag van…
07 – Csak a bolond remél
08 – Fogd be és táncolj!
09 – Na-na-na
10 – Jó reggelt boldogság
11 – Egyszer
Bonus:
12 – Tárd ki a szíved
Köszönet thoms01-nek (NaftamusiC), az eredeti feltöltésért!
https://zenekucko.com/rumatize
Ha kicsomagolásnál jelszót kér, írd be a Zenekucko szót a megfelelő helyre.
Találatok: 17