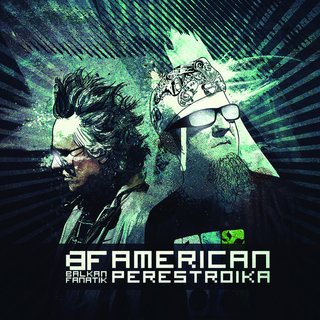 Az American Perestroika a legvagányabb hazai elektro-ethno csapat, a Balkan Fanatik harmadik nagylemeze. Sok szempontból új fejezet ez a lemez Jorgosz Tzortzoglou és Lepés Gábor közös zenei életében.
Zeneileg futurisztikus irányba tolódott el az album és talán kissé karcosabb, nyersebb, mint az előzőek. A csapat kitartóan és fanatikusan törekszik eljuttatni kelet-európai és balkáni kultúránkat a nyugat hallgatóságához, ezért a dalok többnyire görögül és angolul szólalnak meg. A korábbi közreműködőket újabb előadók váltják fel ezen az anyagon. A hagyományos népzenei elemek – melyekből most kevesebb hallható – megszólaltatása végett hegedűn játszott Ökrös Csaba és Salamon Bea. A sokkal táncolhatóbb, tombolós, bulizós és fűrészelős kompozíciók (Shake It, Hajde, Hajde, Let's Spend The Night Together) mellett olykor megszólal egy lírai magyar melódia is (Ha te tudnád/Love Gone Wrong), érdekesség képpen eredeti amerikai rap betéttel. A zenekarnak nem kis megtiszteltetésben volt része, hogy Jorgosz felkérésére a felvételen tangóharmonikán közreműködik Presser Gábor.
Tracklist:
01 – Cherchez La Femme
02 – Let's Spend The Night Together
03 – Digital Scream
04 – Don't Be Shy
05 – Dig-it
06 – Ha te tudnád / Love Gone Wrong
07 – Shake It
08 – Hajde, Hajde
09 – Trigona
10 – Let Me In
https://zenekucko.com/bafanape
Ha kicsomagolásnál jelszót kér, írd be a Zenekucko szót a megfelelő helyre.
Találatok: 18