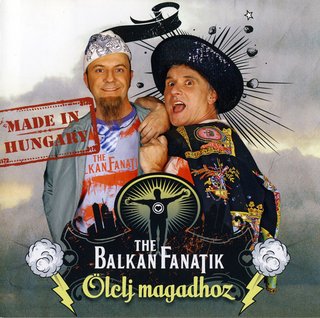 Végy néhány magyar népdalt, adj hozzá angolszász indie pop, ska és reggae elemeket, fűszerezd meg fúvósokkal, majd az egészet bolondítsd meg a legmenőbb elektronikus hangzással. A végeredmény a The Balkan Fanatik albuma, az Ölelj magadhoz.
Made in Hungary – olvasható a CD borítóján. A felirat arra utal, hogy a nemzetközi közönséget is megcélzó albumok után ez kizárólag a magyar piacra készült. A hangszerelésben az elektronika helyett a brit indie-pop az irányadó. Előtérbe került a lírai szerzeményekhez passzoló akusztikus gitár és a hegedű, de harmonika, tárogató és harsona is megszólal. A "Hungarian Fanatik" legalább olyan erős, mint a "balkáni változat". Ráadásul slágeresebb és még jobban szerethető.
Tracklist:
01 – Repülj madár
02 – Fúdd el jó szél
03 – Csiripeltem bébi
04 – Más öleli a babámat
05 – Furcsa lebegés
06 – Ölelj magadhoz
07 – Ha én szabad lennék
08 – Fúvom az énekem
09 – Leánykérõs
10 – Ha te tudnád
11 – Csá! –> A horgosi csárda ki van festve (Hidden track)
Ha kicsomagolásnál jelszót kér, írd be a Zenekucko szót a megfelelő helyre.
https://zenekucko.com/bafanolma
Találatok: 29