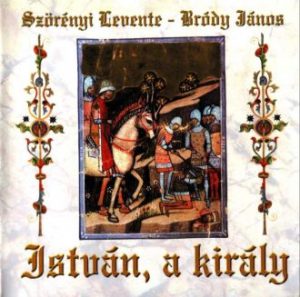 Nem tudom, hogy szavakkal leírható-e az az érzés, melyet annak idején (több mint harminc éve) az István a király zenéje váltott ki bennünk.
Én meg se próbálom. 
A Zikkurat így ír róla: " 1983 augusztusában mutatták be az István, a király c. rockoperát, Budapesten a városligeti szánkózódombon. Ez a hely a bemutató előtt rendezvényre, illetve színpadi előadásra nem adott teret és a szánkózódombot is ettől az időtől kezdve keresztelték át Királydombbá, később hivatalosan is. A magyar politikában 1990-ben volt rendszerváltás, de a művészetben már 1983-ban történt az első nagyszabású rockopera az István, a király színrevételével. Sok mindenben áttörést jelentett a rockopera, vegyük például a szereposztást. Az István, a király a hagyományos színházi gyakorlat, a kemény rock zenével és a pop műfajjal való szembenállását törte meg, hiszen Pelsőczy László, Bereg Kati, Sára Bernadett, Hűvösvölgyi Ildikó, Balázs Péter, Balázsovits Lajos színészek mellett az akkori "lázadó" rockerek: Varga Miklós, Vikidál Gyula, Nagy Feró, Deák "Bill" Gyula, Victor Máté kaptak főszerepet. A szerzők Szörényi Levente és Bródy János zenei múltja is a pop zenében gyökerezik. Az István, a király zenei stílusa, amelyben a populáris zene, a népzenével, valamint az egyházi gregorián zenével ötvöződött, az első ilyen volt a hazai zenés színjátszás történetében. A nagyszabású művet 1983 augusztusában 6 előadásban 120000 néző látta, mozifilm, bakelitlemez, CD és kazetta is készült róla. Talán nem túlzás, hogy az István, a király hangzóanyaga fellelhető minden 3. családnál."
A great Hungarian rock opera titled "Istvan the king", written by two founding members of the well known 60's psych/beat band "Illes", Levente Szorenyi and Janos Brody, performed by leading actors and rock musicians of Hungary. Very similar in a lot of ways to Jesus Christ Superstar, influenced by folk elements, featuring: The ILLES group, DES Laszlo sax, PAPP Gyula hammond organ (ex Skorpio), DEAK "Bill" Gyula (the best East-European blues singer), SEBESTYEN Marta & Muzsikas Group. Marta Sebestyen Whose Vocals Are Prominent On Deep Forest's Boheme Album As Well As The Grammy Winning English Patient Soundtrack.
The production István a Király ("Stephen the King") made its domestic debut in the '80s, while the Communists were still in power. Needless to say, a nationalist musical with explicit Catholic overtones didn't sit that well with the reds. It was like a protest against the Communist regime, and seen by many thousands at open-air stages. None as large, though, as in Csiksomlyo, Transylvania, where over 500,000 people saw it and sang along with the actors. There it was considered a protest against the Romanian government that discriminates against the three million Hungarians who live in Transylvania. There is a Romanian law that the only way another nation's flag can be displayed in Romania is if the Romanian flag is displayed next to it. At this performance, the half-million Hungarians protested with thousands of Hungarian flags only.
CD1
1. Beethoven: István A Király – Nyitány Op. 117
2. Te Kit Választanál?
3. Töltsd El Szívünk Fényesség / Veni Lumen Cordium
4. Gyarló Az Ember
5. Nem Vagyunk Még Hozzád Méltók / Nem Kell Olyan Isten
6. Géza Fejedelem Temetése / Kyrie Eleison
7. Nincs Más Út Csak Az Isten Útja
8. ADJ Békét, Uram / Da Pacem Domine
9. Üdvöz Légyen Géza Fia / Koppány Küldött Jó Úrnõm
10. Abcug Koppány
11. István Fiam!
12. Unom A Politikát
13. Fejedelmünk István!
14. Oly Távol Vagy Tõlem (És Mégis Közel)
CD2
1. Szállj Fel, Szabad Madár
2. Te Vagy A Legszebb Álmunk
3. Abcug István
4. Szemtol Szembe
5. Áldozatunk Fogadjátok
6. Elkésett Békevágy
7. Véres Kardot Hoztam / Vezess Minket István
8. Gyászba Öltözött Csillagom
9. Hála Néked Fejedelem!
10. Halld Meg Uram A Kérésem / Felnégyelni!
11. Oly Távol Vagy Tolem
12. Koppány Felnégyelése / Gloria, Gloria / István, A Király
13. István, A Király / Felkelt A Napunk
14. Himnusz (Erkel, Kölcsey – Illés Együttes)
https://zenekucko.com/0524-30
Találatok: 75