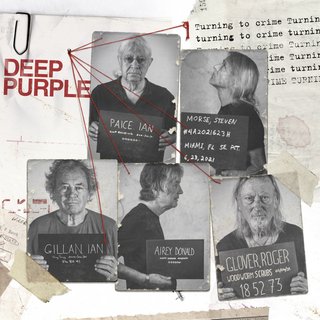 Ez az anyag teljesen más, mint bármelyik album, amit a zenekar valaha is rögzített. A Turning To Crime az első olyan Deep Purple stúdióalbum, amely teljes egészében olyan dalokból áll, amelyeket nem a zenekar írt, amelyeket korábban más művészek rögzítettek. A producer ismét Bob Ezrin volt.
Nem idegen ez a dolog a bandától, hiszen a korai korszakban, az első három lemezükön több feldolgozást rögzítettek, sőt négy éve az Infinite-re rákerült a Doors Roadhouse Blues című örökzöldje is. Az album címe arra utal, hogy a rock-rendőrség és a rajongók ítélőszéke szerint egy bandának feldolgozáslemezt készíteni "bűnnek számít". A zenekar tagjait elmondásuk szerint nem a kereskedelmi siker reménye, hanem az együtt muzsikálás öröme ösztönözte a felvételek elkészítésére.
---
After five decades of records made chiefly of original material, Deep Purple's 22nd studio album consists solely of songs written and previously recorded by other artists: a criminal offense commonly described by the rock police and purists Grand Jury as 'doing covers'. Studio recordings of songs previously released by Love, Huey 'Piano' Smith, Fleetwood Mac, Mitch Ryder & the Detroit Wheels, Bob Dylan, Ray Charles & Quincy Jones, Little Feat, The Yardbirds, Lonnie Donegan/ Johnny Horton, Bob Seger System, Cream, plus the 'Caught In The Act' medley feat. songs by Freddie King, Booker T. and the M.G.'s, The Allman Brothers Band, Led Zeppelin and The Spencer Davis Group came to life with the band, for the first time in their career, recording them while not being in the same room. 'Turning To Crime' is Deep Purple enjoying playing music without commercial plans nor losing their edge and drive.
Tracklist:
01 – 7 and 7 Is (Love)
02 – Rockin' Pneumonia and the Boogie Woogie Flu (Huey "Piano" Smith)
03 – Oh Well (Fleetwood Mac)
04 – Jenny Take a Ride! (Mitch Ryder & The Detroit Wheels)
05 – Watching the River Flow (Bob Dylan)
06 – Let the Good Times Roll (Ray Charles & Quincy Jones)
07 – Dixie Chicken (Little Feat)
08 – Shapes of Things (The Yardbirds)
09 – The Battle of New Orleans (Lonnie Donegan/Johnny Horton)
10 – Lucifer (Bob Seger System)
11 – White Room (Cream)
12 – Caught in the Act (Medley: Going Down / Green Onions / Hot 'Lanta / Dazed and Confused / Gimme Some Lovin)
https://zenekucko.com/deputucri
Találatok: 82