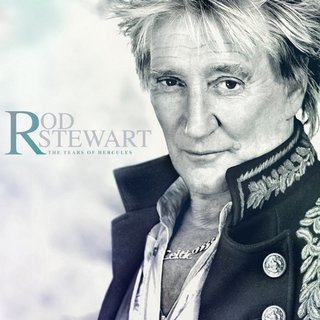 2013 óta a The Tears of Hercules a negyedik lemez, amelyen Sir Stewart vadonatúj dalokkal lepi meg a rajongóit, és amely állítása szerint nagyon közel áll a hozzá.
Az új album különleges helyet foglal el Rod Stewart szívében, főleg a Touchline című szerzemény, amelyet a zenész édesapja emlékére írt, aki megtanította őt és a testvéreit a futball szeretetére és a hagyományok tiszteletére, amit ő továbbadhatott a fiainak.
Rod Stewart nem titkolja, hogy az új lemez büszkeséggel tölti el. "Ezelőtt soha nem mondtam ilyet egyik munkám kapcsán sem, de hiszem, hogy ez az album a legjobb, amit évek óta készítettem."
A Tears of Hercules zenei anyagát Rod Stewart ezúttal is Kevin Savigar zenész-dalszerző kollégájával készítette, csakúgy mint a legutóbbi három stúdióalbumát, a 2013-as Time-ot, a 2015-ös Another Country –t és a 2018-as Blood Red Roses-t.
---
Sir Rod Stewart's rekindled love of songwriting grows even stronger on his brand-new studio album, THE TEARS OF HERCULES. This is Stewart's fourth new album of original songs since 2013 – and his 31st album to date – and for this latest collection, Stewart wrote nine of the 12 songs, including the first single, "One More Time." In addition to the new tracks, THE TEARS OF HERCULES includes covers of Marc Jordan, Johnny Cash, and more. This is a project close to Rod Stewart's heart, especially the song "Touchline," which he dedicated to his father, who taught him and his brothers to love football, a tradition Sir Rod has passed down to his sons. Rod Stewart is one of the best-selling artists in the history of recorded music, with an estimated 250 million records and singles sold worldwide. His signature voice, style, and songwriting have transcended popular music genres, from rock, folk, soul, R&B, and even the Great American Songbook; making him one of the few stars to enjoy chart-topping albums throughout every decade of his career. 
Tracklist:
01 – One More Time
02 – Gabriella
03 – All My Days
04 – Some Kind Of Wonderful
05 – Born To Boogie (A Tribute To Marc Bolan)
06 – Kookooaramabama
07 – I Can't Imagine
08 – The Tears Of Hercules
09 – Hold On
10 – Precious Memories
11 – These Are My People
12 – Touchline
Köszönet thoms01-nek (Naftamusic), az eredeti feltöltésért!
https://zenekucko.com/rosteher
Találatok: 66