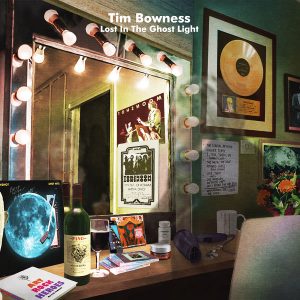 Tim Bowness elsősorban énekesként ismert, változatos zenei portfóliójával és a Burning Shed nevű online lemezkiadójával beírta magát a kortárs zenei szcénába, fárasztóan hosszú lenne azok listája, akikkel együtt dolgozott idáig ambient stílustól a progresszív rockig, Alice-től Tony Levinig. A most megjelent lemeznek az az apropója, hogy a Steven Wilsonnal közös No-Man projektje is szerepel a listán, hat lemezt adtak ki idáig, és ami nem fért bele ennek az együttműködésnek a művészi kereteibe abból lett Bowness-szólóanyag, a mostani a negyedik.
Nagy átjárás van Tim Bowness zenei pályájának a gerincét adó előadók – elsősorban a Porcupine Tree tagjai – zenei világa között, a Lost In The Ghost Light bármelyik dala helyet kaphatott volna egy No-Man-albumon, bár az ott időnként megjelenő öncélúságnak, az electro-borulatoknak itt nyoma sincs.
Egységes anyagról van szó, nehéz kiemelni egy-egy dalt belőle, és bár Tim érzelmekkel és szomorúsággal teli jellegzetes suttogó énekhangja uralkodik a lemezen, nem szorul háttérbe a '70-es éveket idéző – sőt a '70-es évek progresszív megoldásai előtt tisztelgő – hangszerelés és a remek kórusok. Kicsit kilóg a sorból a Kill The Pain That's Killing You a maga dühösségével, de a történet így kívánja meg. A Distant Summers azért említendő meg, mert ez egy letisztult átirata vagy inkább újragondolása a 2014-es 'Abandoned Dancehall Dreams' albumon szereplő, múltba merengő Songs Of Distant Summers című dalnak, erős ihletet adtak azok a régi nyarak.
/metalindex-pont-hu nyomán/
Tim Bowness announces the release of his fourth solo album, Lost In The Ghost Light. The album has been mixed and mastered by Steven Wilson.
Bowness utilises a core band comprising Stephen Bennett (Henry Fool), Colin Edwin (Porcupine Tree), Bruce Soord (The Pineapple Thief), Hux Nettermalm (Paatos) and Andrew Booker (Sanguine Hum), and is also joined by guests including Kit Watkins (Happy The Man/Camel), Steve Bingham (no-man) and the legendary Ian Anderson (Jethro Tull). Andrew Keeling (Robert Fripp/Hilliard Ensemble/Evelyn Glennie) arranges for string quartet and flute on three of the album's songs.
01. Worlds Of Yesterday
02. Moonshot Manchild
03. Kill The Pain That's Killing You
04. Nowhere Good To Go
05. You'll Be The Silence
06. Lost In The Ghost Light
07. You Wanted To Be Seen
08. Distant Summers
Zenészek:
Tim Bowness – ének, billentyűs hangszerek, programozás
Colin Edwin (Porcupine Tree) – basszusgitár
Bruce Soord (The Pineapple Thief / Katatonia) – gitár, vokál
Hux Nettermalm (Paatos) – dobok (1,2,5)
Stephen Bennett (Henry Fool / No-Man) – billentyűs hangszerek, gitár
Andrew Booker (Sanguine Hum / No-Man) – dobok (3,4,7,8)
Vendégek:
Ian Anderson (Jethro Tull) – fuvola (8)
Kit Watkins (Happy The Man / Camel) – fuvola (1,6), waterphone (6)
Andrew Keeling (Hilliard Ensemble / Robert Fripp) – vonós hangszerek (3,4,5), gitár (5), fuvola (3,4,5)
Steve Bingham (Ely Sinfonia / No-Man) – hegedű (7,8)
David Rhodes (Peter Gabriel / Kate Bush / Scott Walker) – gitár (3)
Charlotte Dowding (Chetham's Symphony Orchestra / Dowding Quartet) – hegedű (3,4,5)
The "unknown" Pete Smith – Rickenbacker basszusgitár (7)
https://zenekucko.com/TBow
Találatok: 303