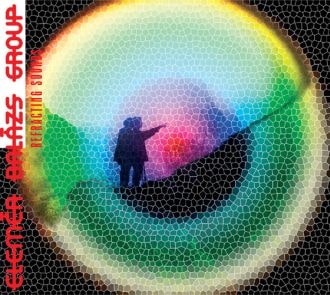 "A magyar szellemi tőke közhelyszerűen világhírű, és az "importképes" szellemi tőkének ugyanúgy része a zene is. Szerencsére a klasszikus zenei és a jazz műfajban is bővelkedünk nemzetközi szinten is jegyzett komponistákkal és előadókkal. Közéjük tartozik Balázs Elemér is, akinek igen gazdag zenei "könyvtárából" most a "Refracting Sound"-ot kölcsönözzük ki.
"Úgy gondolom, hogy, ma Elemér az egyik legjobb dobos a világon. Csodálatosan üti meg a hangszerét – mindig élvezem, ha alkalmam nyílik vele muzsikálni, illetve hallgatni a játékát". Így nyilatkozott Pat Metheny a világ egyik meghatározó gitárosa Balázs Elemérről.
Balázs Elemér számtalan zenei formációban játszott már és legalább ötven lemezen hallható a játéka. 2000-ben hívta életre a Balázs Elemér Group-ot. A mostani a zenekar harmadik albuma.
A "Refracting sounds" egyik meghatározó vonása a női (Hajdú Klára) és a férfi (Winand Gábor) énekhang tökéletes kontrasztja. "A számok erős képszerűsége nem utolsósorban azzal magyarázható, hogy egy részük eredetileg a Salamon András által rendezett Getno című film zenéjeként íródott, illetve a képek által ihletett improvizációkból formálódtak – az innen származó inspiráció a többi dal születésénél is jelentős volt." (Czékus Mihály ismertetője, hifipiac.hu)
Az albumot annak idején Bimre küldte nekünk.
Kedves Bimre, köszönjük!
A számok:
01. Elf 5:47
02. Peach tree 5:05
03. Balkan sky 2:16
04. Dream journey 1:43
05. Deep colours 4:52
06. Open your mind 3:13
07. Going to America 3:53
08. Refracting sounds 3:28
09. Jaipur garden 5:55
10. Homecoming 4:16
11. King's farewell 4:15
12. Breaking up 3:39
13. Strange silence 3:04
14. After the storm 6:04
A felvételeket készítették:
Balázs Elemér – drums; Balázs József – keyboards; Juhász Gábor – guitar; Glaser Péter – double bass; Dés András – percussion; Winand Gábor – vocals; Hajdú Klára – vocals
+
Dés László (szoprán szaxofon), Czvikovszky Gábor (trombita), Borbély Mihály (tárogató) és Lukács Miklós (cimbalom)
A 2013. október 25-i bejegyzés frissítése.
https://zenekucko.com/04893
Találatok: 46