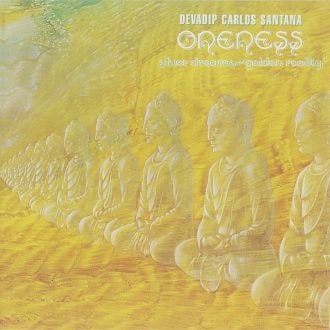 Carlos Santana "a mexikói születésű muzsikus (1947. július 20.), aki zaklatott gyermekkor után került bele a San Franciscói hippivilágba, már első, máig emlékezetes nagy sikerei, a Woodstock-i fesztivál, a bemutatkozó Santana-album és főleg azt követő Abraxas után zenei és lelki válságba került: kezdte szűknek érezni az általa kitalált "latin rockot", miközben kábítószer- és magánéleti problémái is nyomasztóan hatottak rá.
Így indult el a spirituális élet és zene irányában, és ennek nyomai már az 1972-es Caravanseray című lemezen is érezhetőek voltak, hogy az erősen jazz-rockos Welcome-ban (1973), Borbolettában (1975) és a Lotus című tripla albumban kiteljesedjenek ezek a törekvések. Ez utóbbin már meditáció is hallható. Ekkor Carlos már Sri Chinmoy tanítványa volt, felvette a Devadip (Isten Fénye) nevet, leszokott a drogról, és zenéjét a Mester által hirdetett Legfőbb Szeretet (Love Supreme) szolgálatába állította. Az Illuminations (1973), amit Coltrane özvegyével, Alice-szel készített és Mahavishnu John McLaughlinnal közös gitárlemezük, a Love Devotion Surrender, amelyen két híres Coltrane-darabot, az A Love Supreme-et és a Naimát is feldolgozták, új dimenzióba helyezte Santana muzsikáját.
A nagyközönség azonban nem ezt várta Carlostól, hanem a lendületes, afro-kubai ritmusokra alapuló, közérthetőbb zenét. Így a 70-es évek végére Santana kénytelen volt kétlakivá válni: zenekarával funkys elemeket sem nélkülöző, nemegyszer a kommersznek túl nagy engedményeket tevő korongokat vett fel, míg saját nevén adta ki – részben a Santana Band tagjaival – a Mesternek szentelt felvételeit." (GNL)
A számok:
1. "The Chosen Hour" (Santana) – 0:38
2. "Arise Awake" (Santana) – 2:05
3. "Light Versus Darkness" (Santana) – 0:48
4. "Jim Jeannie" (Hamilton) – 3:30
5. "Transformation Day" (Hovaness, Santana) – 3:44
6. "Victory" (Santana) – 1:09
7. "Silver Dreams Golden Smiles" (Coster, Santana, Walker) – 4:09
8. "Cry of the Wilderness" (Santana) – 3:10
9. "Guru's Song" (Santana) – 3:06
10. "Oneness" (Santana) – 6:21
11. "Life Is Just a Passing Parade" (Santana) – 5:12
12. "Golden Dawn" (Santana) – 2:17
13. "Free as the Morning Sun" (Santana) – 3:14
14. "I Am Free" (Chimnoy, Santana) – 1:25
15. "Song for Devadip" (Walden) – 5:03
A zenészek:
Carlos Santana – Guitar, Vocals
David Margen – Bass
Narada Michael Walden – Drums
Urmila Santana – Vocals
Chris Solberg – Guitar, Keyboards, Vocals
Chris Rhyne – Keyboards
Clare Fischer – Piano
Saunders King – Guitar, Vocals
Graham Lear – Drums
Bob Levy – Synthesizer
Tom Coster – Keyboards, Vocals
Pete Escovedo – Percussion
Armando Peraza – Percussion, Vocals
A 2012. július 15-i bejegyzés frissítése.
https://zenekucko.com/03475
Találatok: 66