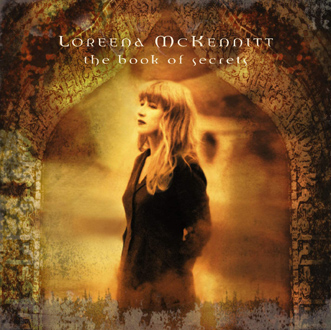 1998-ban Loreena életét és karrierjét személyes tragédia törte meg. Egy csónakbalesetben meghalt vőlegénye, Ronald Rees, annak testvére, és egy közeli, közös barátjuk. A hármas haláleset rendkívül megviselte a művésznőt. Ezt követően nyolc évig nem adott ki stúdiólemezt, és sokáig fel sem lépett.
Loreena McKennitt (teljes nevén Loreena Isabel Irene McKennitt) 1957. február 17-én született, a kanadai Mordenben. "Ha valaki fölteszi a nagy kérdést: "Ki vagyok én?" és "Miért vagyok itt?", úgy tûnik: a múltba vezetõ utak megértése is éppoly fontos, mint a jövõbe mutatóké, legyen az egyéni vagy kollektív, szeretetbõl vagy tudásszomjból fakad-e." – Loreena McKennitt.
Énekesnő és dalszerző, hárfán és zongorán egyaránt kitűnően játszik. Műfaja az úgynevezett világzene: elsősorban a kelta és Közel-keleti hagyományokból merít.
A "The Book Of Secrets" különféle utazások során fogant, és ezeket az élményeket foglalja zenébe. Az egyik utazás a legendás Transz-szibériai expresszen zajlott, ahol az önmagát menedzselő énekesnő és saját lemeztársaságának elnöke meglelte azt a nyugalmat, amire szüksége volt a "The Book Of Secrets"megfogalmazásához és előkészítéséhez. Végre arra is jutott ideje, hogy elolvassa Dante Isteni színjátékát, ennek hatása jelentkezik az album utolsó dalában, a "Dante's Prayer"-ben.
A lemez dalai mozaikként kapcsolódnak össze, a különböző darabkákat sok helyről gyűjtötte, és egyenként illeszkednek egymáshoz. Minden dal egy valós utazás élményét, meséli el, McKennitt csodálatos hangján.
01. Prologue (04:25)
02. The Mummers' dance (06:10)
03. Skellig (06:10)
04. Marco Polo (05:19)
05. The Highwayman (10:20)
06. La Serenissima (05:10)
07. Night ride across the Caucasus (08:32)
08. Dante's prayer (07:11)
Acoustic Bass – Danny Thompson
Drums – Manu Katché
Mandocello – Martin Jenkins
Mandola – Aidan Brennan
Acoustic Guitar, Bouzouki – Brian Hughes
Percussion – Hossam Ramzy, Rick Lazar
Sarangi, Rebec, Vielle [Lira Da Braccio] – Nick Hayley
Tabla – Donald Quan
Violin – Hugh Marsh
Violin [String Quartet: 1st Violin] – Jonathan Rees
Violin [String Quartet: 2nd Violin] – Iain King
Violin [String Quartet: Cello] – Chris Van Kampen
Violin [String Quartet: Viola] – Andy Brown
Vocals, Keyboards – Loreena McKennitt
https://zenekucko.com/LorM98
Eredeti feltöltő: nagygazemberimi, akinek innen is szeretnénk Kellemes Ünnepeket kívánni!
frissítés: dali300/Levin
Találatok: 47