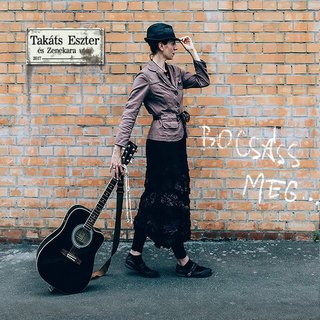 Takáts Eszter a hazai könnyűzenei élet mindig megújulásra képes szereplője, azon kevés női előadó közé tartozik, aki nem csak szólistaként, hanem dalszerzőként is képes maradandót alkotni. Eszter olyan egyszemélyes intézmény, aki nem ver gyökeret egy stílusban, hangzásvilágban, hanem folyamatosan keres, új társakkal, új hangszerekkel tágítva saját határait – a közönség legnagyobb örömére. 2016-ban erős formáció verbuválódott össze, 2017 év végére dupla nagylemezzel érkeztek.
Takáts Eszter és Zenekara a Bocsáss meg! dupla lemezzel úgy megy, hogy alig győzzük utolérni. Pedig semmi forradalmian újat nem találnak ki, egyszerűen csak tudják, hová kell reggae, blues, pszichedelikus elszállás vagy klasszikus, koszos, dögös rock and roll.
Iszonyúan gazdag, sokrétegű zene ez, Giret Gábor masterelése a dicső analóg időket idézi, vagyis anélkül lehet hallani minden hangszert, hogy sterillé válna a hangzás, a konokul menetelő basszusokra úgy fekszik rá a csilingelő akusztikus meg a nagy fürtökben szétpedálozott elektromos gitár, mint ég a tengerre a horizonton. A vokális megoldások, kórusok gyönyörűek és precízek. Ez érzékeny zene érző embereknek. Akinek van füle, hallja.
Takáts Eszter – ritmusgitár, ének
Kosztin László – szólógitár
Horváth Mihály – szájharmonika
Giret Gábor – basszusgitár, vokál
Czimermann Csaba – dob
Tracklist:
CD1:
01 – Szeretnék veled tszteletlen lenni
02 – Nem is idegen
03 – Szívem kiadó
04 – Árnyéktánc
05 – Magammal viszem
06 – Ha egy nő szeret
07 – Füsttel
08 – Középen
09 – Ezüst
CD2:
01 – Gyakorlati szerelmes dal
02 – Árnyékba szívek
03 – Okozz engem másnak
04 – Tükrök és szavak
05 – Hazug lepedő
06 – Szakító dal
07 – Lámpás dal
08 – Lebegjünk
09 – Bocsáss meg
10 – Luna Rúna
https://zenekucko.com/takebome
Ha kicsomagolásnál jelszót kér, írd be a Zenekucko szót a megfelelő helyre.
Találatok: 73