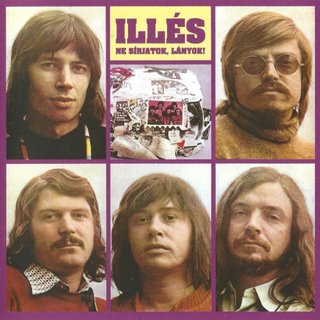 A Ne sírjatok, lányok az Illés-együttes 1973-ban megjelent nagylemeze, gyakorlatilag a régebbi számaik újrahangszerelt változata. Ezt a lemezt tekintik a legendás összeállítású együttes búcsúlemezének. A felvétel nem az Illés együttes, hanem a KITT egylet (Koncz Zsuzsa, Illés-együttes, Tolcsvay-trió) közreműködésével készült. A hanglemez kinyitható borítóval jelent meg, az 1986-ban megjelent fehér dobozban nem szerepel. A lemez magnókazettán megjelent változata volt az elsõ mûsoros kazetta, ami Magyarországon kereskedelmi forgalomba került 1973 végén. Ugyancsak ez volt az elsõ hazai "best of…" jellegű válogatás-lemez; jóllehet a legtöbb dalt újra felvették; elsősorban a koncerteken sikeres, de nagylemezekre nem került dalokból szemezgettek.
A lemezanyag végére 10 olyan dal került bónuszként, amik eddig egyetlen CD-re sem kerültek fel (így a dupla Illés összes kislemeze című CD-re sem.)
Illés Lajos – billentyűk, ének
Szörényi Levente – ének, gitár, vokál
Szörényi Szabolcs – ének, basszusgitár, vokál
Bródy János – gitár, furulya, billentyû, ének
Pásztory Zoltán – dob, ütõhangszerek
Tracklist:
01 – Légy jó kicsit hozzám
02 – Igen
03 – Nem érti más, csak én
04 – Még fáj minden csók
05 – A bolond lány
06 – Téli álom
07 – Miért hagytuk, hogy így legyen
08 – Nem érdekel, amit mondsz
09 – Holdfény '69
10 – Láss, ne csak nézz
11 – Eltávozott nap
12 – Ne sírjatok, lányok!
Bónusz dalok:
13 – Protonok tánca
14 – Séta az arany húrokon
15 – Little Baby
16 – Bucket Seats
17 – Táskarádió
18 – Nézz rám
19 – Nem volt soha senkim
20 – Koszos kisfiú
21 – Kenyér és vér
22 – Új világ
Köszönet the fly-nak (Naftamusic), az eredeti feltöltésért!
https://zenekucko.com/ilnesila
Ha kicsomagolásnál jelszót kér, írd be a Zenekucko szót a megfelelő helyre.
Találatok: 114