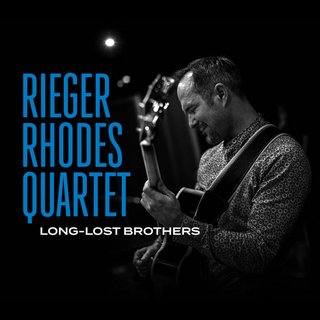 A Rieger Rhodes Quartet (RRQ) Long-lost Brothers című debütáló anyaga a patinás svájci jazz kiadó, a Unit Records gondozásában jelent meg. A felvételek 2021 januárjában az egykori Hungaroton stúdió legendás Rottenbiller utcai nagy feljátszójában készültek.
A kvartett alapítói és az album anyagának szerzői, Rieger Attila és Rozsnyói Péter. A Fender Rhodes a '70-es évek analóg elektromos zongorája, a gitáréhoz hasonló hangszedőkkel szólal meg a puha, cselesztára emlékeztető varázslatos, csilingelő hangján. Hazai színpadjaink gyakran nélkülözik az akusztikus zongorát vagy pianínót, Rieger Attila éppen ezért szeretett volna olyan megoldást találni, amely egyszerre adja vissza ezeknek a hangszereknek a hangzásvilágát, ugyanakkor mégsem kell a mai digitális hangszerek zongorahangjára támaszkodni – ezt a funkciót a Fender Rhodes – melyet a modern jazzben is gyakran használnak teljes értékű hangszerként – tökéletesen betölti. A lemezen a hangszer egy '50-es évekbeli Böhm csöves erősítőn szólal meg.
A New York-i jazzgitáros Peter Bernstein szerint "Ez egy gyönyörű lemez nagyszerű szerzeményekkel Rieger Attila és együttese előadásában. Attila hihetetlen hangzásvilágot jelenít meg fantasztikus gitárjátékával, amely nagyon egyéni és érett zeneiséget tükröz. Az együttes rendkívüli érzékenységgel, beleérzéssel és kellő nagyvonalúsággal hozza felszínre minden egyes szerzemény hangulatát. Nagyszerű zene!!"
Rieger Attila – gitár
Rozsnyói Péter – zongora
Horváth Albert – Fender Rhodes
Oláh Zoltán – bőgő
Csízi László – dob
Tracklist:
01 – Circle
02 – Winter Waltz
03 – Green Seeds
04 – Long-Lost Brothers
05 – Song
06 – Mr. Minor
07 – Through The Plain
08 – Bouncin'
09 – Circle (Alternate Take)
10 – Long-lost Brothers (Alternate Take)
11 – Mr. Minor (Alternate Take)
12 – Green Seeds (Alternate Take)
https://zenekucko.com/rilobro
Ha kicsomagolásnál jelszót kér, írd be a Zenekucko szót a megfelelő helyre.
Találatok: 53