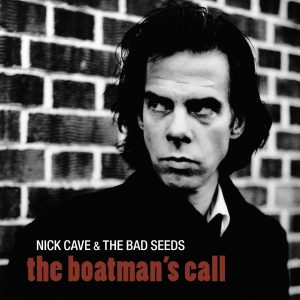 Az 1001 Albums You Must Hear Before You Die (1001 lemez, amit hallanod kell, mielőtt meghalsz) sorozat nyolszáznegyvennyolcadik (848) lemeze.
Cave élete egyik legszomorúbb albumán, az 1997-es The Boatman's Callon zongorázta és énekelte ki szerelmi csalódását, bánatát.
Amikor Nick Cave 1995-ben első Number one-sikerét elkönyvelhette a Where The Wild Roses Grow című duettel, karrierje már 25 éves múltra tekintett vissza.1977-ben kezdett el zenével foglalkozni az iskolatársaival alapított Boys Next Door nevű formációban, mely később The Birthday Party néven vált ismertté. Ausztrália legkeményebb és drogokkal leginkább átitatott punk-zenekara hamarosan Londonba helyezte át székhelyét, és már itt jelent meg 1981-ben a legendás Prayers On Fire című albumuk, mely kultusz-zenekar státuszba emelte őket.
A Blixa Bargeld-del (Einstürzende Neubauten) való ismeretség apropóján 1984-ben Nyugat-Berlinbe helyezte át székhelyét az együttes, ahol akkoriban számtalan művész képviseltette magát. Az akkor még fallal kettéosztott városban kezdődött meg Nick Cave máig is tartó karrierje.
Olyan példaképektől ihletve, mint John Lee Hooker, Bob Dylan, Lee Hazlewood vagy Leonard Cohen kezdte el Nick Cave költői erényeket megcsillantó szövegeit rockos zenei környezetbe helyezni. Együttesével, a Bad Seeds-szel karöltve, számtalan, mára klasszikussá vált, albumot rögzített.
Később Nick Cave az independent körökből egészen a világsztárságig jutott, a már említett – Kylie Minogue-gal közös – duettnek köszönhető. A Where The Wild Roses Grow előbb a hozzá készült klip miatt kavart botrányt az MTV-n, majd a slágerlisták csúcsait ostromolta meg.
A The Boatman's Call a Nick Cave & The Bad Seeds tizedik albuma. A kritikusok Nick Cave pályafutása egyik legjobb albumának tartják. Szakít az erőszak témakörével (lásd:Murder Ballads) és erősen életrajzi és vallási ihletésű dalokban vall Carneiro-val és PJ Harvey-val folytatott viszonyáról, továbbá ez volt az első teljes album, amely az ő zongorajátéka köré szerveződött.
Ezidőtájt hagy fel az ivással és a heroinnal.
01. Into My Arms
02. Lime Tree Arbour
03. People Ain't No Good
04. Brompton Oratory
05. There Is a Kingdom
06. (Are You) The One That I've Been Waiting For?
07. Where Do We Go Now But Nowhere?
08. West Country Girl
09. Black Hair
10. Idiot Prayer
11. Far From Me
12. Green Eyes
bonus by dali300 [FLAC 24bit-44.1kHz]
13. Little Empty Boat (2011 Remastered)
14. Right Now I'm A-Roaming (2011 Remastered)
15. Black Hair (Band version) (2011 Remastered)
16. Come Into My Sleep (2011 Remastered)
17. Babe, I Got You Bad (2011 Remastered)
Közreműködő zenészek:
Nick Cave – ének, zongora, Hammond orgona, vibrafon, billentyűs hangszerek
Mick Harvey – elektromos és akusztikus gitár, basszusgitár, Hammond orgona, vibrafon
Blixa Bargeld – elektromos gitár
Thomas Wydler – dob, maracas
Conway Savage – zongora, háttérvokál
Martin P. Casey – basszusgitár
Jim Sclavunos – dob, melodika, harangok
Warren Ellis – hegedű, harmonika
-pastebin-
++++++++++++++++++++++++++++++++++++++++++++++++++++++++
• Nick Cave & The Bad Seeds – (1997) – The Boatman's Call • 2011 Remasterd DVD-A rip [FLAC 24-48] •

https://link.odavisz.cam
Password:bkzu
Terabox használatához érdemes egy külön (pl.) gmailes fiókot nyitni, nem pedig a saját fiókot használni.
Choose option create account with email, use ANY random gmail address. Do NOT choose login with gmail, it's not the same. They don't verify, but account will be created.
---
---
---
Találatok: 49