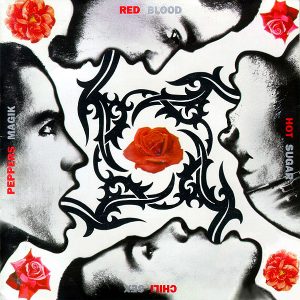 Az 1001 Albums You Must Hear Before You Die (1001 lemez, amit hallanod kell, mielőtt meghalsz) sorozat 693-ik lemeze. Kevés kacskaringósabb és érdekesebb életpályával rendelkező zenekar létezik a földön, mint az eredetileg a könnyen megjegyezhető Tony Flow And The Miraculously Majestic Masters Of Mayhem néven indult funk/punk/jazz/rock csoportosulás.
Mert hol van még egy olyan banda, ahol az alapító négyes csak a harmadik lemezre jut el oda, hogy végre mindegyikőjük szerepeljen is az anyagon (és többet erre nem is lesz lehetőségük)?
Vagy ahol az egyik később beszállt gitáros annyira berág a kirúgása miatt, hogy fel akarja gyújtani az énekes házát. Vagy ahol a basszusgitáros szó szerint rosszul lesz attól, hogy neki kell kirúgnia a csapat harmadik dobosát, és ettől napokra ágynak esik. Vagy ahol az első dobos amiatt száll ki végleg, mert idegösszeroppanást kap a gitáros halála miatt, és elmondása szerint nem tud egy olyan bandában játszani, ahol a barátai haldokolnak. Vagy ami annyira sorsrontó közösség lenne, hogy mindenki, aki kapcsolatba kerül vele – akár csak hónapokra is – azonnal drog/alkohol/gyógyszer/mentális problémákkal fog küzdeni. És ami ennek ellenére túlél mindent és mindenkit, és egyre csak erősebben kerül ki a tragédiákból.
A négy egykori osztálytárs – Anthony Kiedis, Michael Peter Balzary, Hillel Slovak és Jack Irons már az első koncert után – pláne a gyors névváltoztatást követően – futótűzként terjedt el a gimnazisták és a UCLA hallgatói körében a bármely durvaságú bulira bármikor kapható banda híre, akinek a tagjai ráadásul jól hallhatóan tudnak is zenélni, nem csak csapkodnak össze-vissza. Ennek és a szinte megállás nélküli koncertezésnek, meg persze Kiedis családi kapcsolatainak – színész/drogdíler apjának és Sonny Bono névre hallgató keresztapjának – hála gyorsan felfigyel rájuk a szakma is, olyannyira, hogy eléggé megdöbbentő módon néhány hónap után sikerül egy hétlemezes (!) EMI szerződést is összekaparniuk.
A bő hetvennégy perces lemez minden pillanatban szikrázó lánggal ég, mint egy meggyújtott magnéziumdarabka, és mindig új és újabb arcát mutatja, mint egy kaleidoszkóp. A címnek megfelelően tényleg minden fontosabb dologról beszél, ami valaha is meghatározó volt a banda életében: szerelem, szex, barátság, vér, drogok, mágia, őrület. Azonban egy pillanatra sem szabad elfelejteni, hogy a RHCP nem onnan érkezett a rockzene területére, mint más csapatok, ők később is mindvégig megőrizték funk/reggae/rap hatásaikat.
/shockmagazin-pont-hu/
01. The Power Of Equality
02. If You Have To Ask
03. Breaking The Girl
04. Funky Monks
05. Suck My Kiss
06. I Could Have Lied
07. Mellowship Slinky In B Major
08. The Righteous & The Wicked
09. Give It Away
10. Blood Sugar Sex Magik
11. Under The Bridge
12. Naked In The Rain
13. Apache Rose Peacock
14. The Greeting Song
15. My Lovely Man
16. Sir Psycho Sexy
17. They're Red Hot
dali bonus:
18. Little Miss Lover (2006 Remaster)
19. Castles Made of Sand (2006 Remaster)
zenészek:
Anthony Kiedis – ének
John Frusciante – gitár
Flea – basszusgitár
Chad Smith – dobok
https://tinyurl.com/7pz4fkjr
-pastebin-
---
Találatok: 48