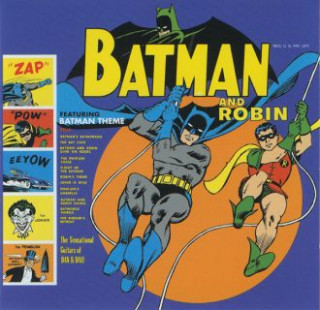 Érdekes lemezt hoztam a kuckóba: a  jazz, sőt, talán a teljes egyetemes zenetörténet legérdekesebb, legelvetemültebb, leglegendásabb, legújítóbb és legkiismerhetetlenebb formációját üzemeltető Sun Ra, és az egyik legnagyszerűbb amerikai blues-rock, rhythm and blues formáció, a The Blues Project közös lemezét.Mindkét zenekarról oldalakat lehetne írni, és érdemes is lenne, most azonban elégedjünk meg vele, hogy a közönség egyikükkel sem bánt érdemeiknek megfelelő módon.
A Batman képregények ihlette közös felvételeik meghallgatása megérdemel egy kis időt.
A számok:
1. Batman Theme
2. Batman's Batmorang
3. Batman And Robin Over The Roofs
4. The Penguin Chase
5. Flight Of The Batman
6. Joker Is Wild
7. Robin's Theme
8. Penguin's Umbrella
9. Batman And Robin Swing
10. Batmobile Wheels
11. The Riddler's Retreat
12. The Bat Cave
A zenészek:
Sun Ra Arkestra
Sun Ra, Hammond B-3 organ
John Gilmore, tenor sax
Marshall Allen, alto sax
Pat Patrick, bass

The Blues Project
Andy Kulberg, bass
Roy Blumenfeld, drums
Danny Kalb, guitar
Steve Katz, guitar
Al Kooper, organ
A 2018. február 13-i bejegyzés frissítése.
https://zenekucko.com/07414
Találatok: 51