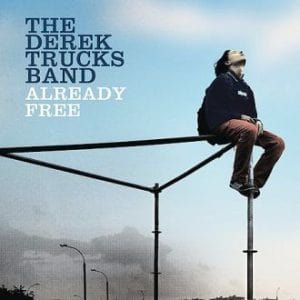 A Passzio.hu lemezismertetőjéből: "A Derek Trucks Band főszereplője a (slide) gitár virtuóza Derek Trucks, aki az Allman Brothers Band-ben dolgozott éveken át.
A Jacksonville-i (Florida, USA) soul-blues-rock zseni 1994-ben döntött úgy, hogy saját csapatot épít, ami mostanra a hetedik stúdió albumát készítette el Already Free címmel. Derek igazi zsenigyereke a műfajnak. 1978-ban született, 12 éves volt, amikor elsőként lépett színpadra a Derek and the Dominators nevű bandával…
Derek Trucks Band nem csak egyszerűen soul-blues-t játszik, hanem eklektikus elegyet alkotnak, blues, soul, jazz, rock, indián és latin elemekkel, világzenei hatásokkal. Lemezeiken is sok az improvizáció. Derek kimagaslóan tud hangszerén játszani és ezt minden alkalommal be is tudja bizonyítani! Igazi zseni!
Ezen a lemezen is zseniálisak a szólói, szinte már-már beszélteti (slide) gitárját, nem akárhogyan szólaltaja meg a dallamokat… zseni! Mike Mattison énekes karcos, őserejű soul-blues hangja mindezt tökéletesen egészíti ki, igaz nem túlságosan nagy a skálája, de amit tud, azt nagyon tudja… A főszereplő, mindvégig Derek Trucks marad! Az első lefogott hangjánál kiderül, hogy itt mindenki őt szolgálja ki.
Az Already Free a lehető legszélesebbre tárja szét a lehetőségeiket. Vendégeskedik rajta Doyle Bramhall II, Oteil Burbridge, Susan Tedeschi és Warren Haynes, akiket engednek, hogy önmagukat adják! Így aztán a gitáros Doyle Bramhall II szólózik néhány rendkívülit, ahogy a Smokestack-ben, vagy Eric Clapton másodhegedűseként szokott. Az Allman Brothers Band basszerese Oteil Burbridge is kitesz magáért! A szintén Allman Brothers Band-es, de a Gov't Mule-ban is rockoló gitáros, Warren Haynes-ről nem is beszélve…
A mainstream blues szerelmeseinek ez akár az év lemeze is lehet! Minden pillanatban olyan magas minőséget tudnak a srácok, amivel nem nagyon lehet vitatkozni! Egyszerűen élvezni kell ezt az akár táncolható zenét! Különleges, nagyszerű, minőségi zenéről van szó, egy zseniális slide gitáros Grammy-t érő alkotásáról!"
Kedves Sz. Zsolt, köszönjük szépen a lemezt!
A Derek Trucks Band:
Derek Trucks – gitár
Todd Smallie – basszusgitár, ének
Yonrico Scott- dob, percussion, vokál
Kofi Burbridge – billentyűs hangszerek, fuvola, vokál
Mike Mattison – ének
Count M'Butu – kongák, percussion
A számok:
1. "Down in the Flood"
2. "Something To Make You Happy"
3. "Maybe This Time" (Featuring Doyle Bramhall II)
4. "Sweet Inspiration"
5. "Don't Miss Me"
6. "Get What You Deserve"
7. "Our Love" (Featuring Doyle Bramhall II)
8. "Down Don't Bother Me"
9. "Days Is Almost Gone"
10. "Back Where I Started"
11. "I Know"
12. "Already Free"
https://zenekucko.com/01230
Találatok: 21