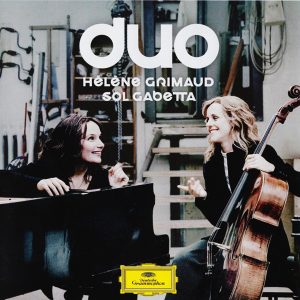 Hélène Grimaud – "Egy szenvedélyből elkövetett melléütés egészen másképp hangzik, mintha ugyanazt a félelem generálja."
Bach, Mozart, Beethoven vagy Bartók, Brahms, Rahmanyinov? Mindegyik új életre kel a kezei alatt. Hélène Grimaud-t a kritikusok csak rubato virtuóznak titulálják egyedi tempói, szabályokat felrúgó interpretációi miatt. A zongora mellett másik nagy szenvedélye a farkasok tanulmányozása és nevelése. Ő a Wolf Conservation Center társalapítója.
16 évesen úgy játszik Rahmanyinovot, hogy a csodájára járnak, és komoly díjakat kap érte. 1987-ben indul szólókarrierje. Négy évvel később egy másik karrier is kezdetét veszi az életében.
Egy barátja kutyáját sétáltatta este, Florida fővárosában, amikor egy farkas sziluettje bontakozott ki a sötétből. Az állat odament hozzá, megszaglászta. Grimaud kitárta finom zongorista ujjait, a farkas meg odadörgölte a fejét a tenyeréhez. Pár évvel később egy fotós barátjával megalapította a Wolf Conservation Centert a New York állambeli Dél-Salemben.
Hélène Grimaud zongorajátékában ugyanolyan megszállott, mint a farkasokhoz fűződő viszonyában. Mahlerrel együtt ő is azt vallja, a kottában csak a zene egyik része található. A másik ott van az előadó szívében, fejében és kezében. Játékstílusának "önkényességét" egyébként Glenn Gouldéhoz szokták hasonlítani. Grimaud nem műveket játszik, hanem a művel való találkozás élményét szólaltatja meg. Ez nem csak akkor jön át, amikor szólistaként szerepel, hanem amikor ehhez megfelelő partnerei is akadnak.
2011 nyarán a gstaadi Yehudi Menuhin Fesztiválon találkozott az argentin Sol Gabetta csellóművésszel. A találkozásból frenetikus lemez született. Schumann, Brahms, Debussy és Sosztakovics szonátái kortárs megvilágításban. Azonnal meg is kapta a nagy presztízsű Diapason d'Or legjobb kamarazenének járó elismerését.
Sol Gabetta – "A cselló emberi nyelven beszél."
Gabetta játékát nem túl szerencsés dolog technikai szempontból értékelni, mert akkor mindössze annyit lehetne írni röviden és tömören, hogy tökéletes. Ezért inkább az előadásának az érzelmi töltését érdemes fókuszba állítani. A elhangzó művek mindegyikénél vannak olyan pillanatok, amikor az előadó olyan szinten azonosul a hangszerével, hogy eggyé válik azzal.
Gabetta pont olyan lelkesedéssel játszik, mintha ez lenne a debütáló korongja. Produkciójában nem szorul bele egyetlen sémába, hanem folyamatosan képes megújulni. Játéka éppúgy tud erőteljes és átható lenni, mint atmoszférikus, lebegő. Ez a lemez méltán követel helyet magának minden valamirevaló lemezgyűjteményben.
Robert Schumann (1810 – 1856)
Fantasiestücke, Op.73
01. 1. Zart und mit Ausdruck
02. 2. Lebhaft, leicht
03. 3. Rasch und mit Feuer
Johannes Brahms (1833 – 1897)
Sonata For Cello And Piano No.1 In E Minor, Op.38
04. 1. Allegro non troppo
05. 2. Allegretto quasi minuetto
06. 3. Allegro – Più presto
Claude Debussy (1862 – 1918)
Sonata in D Minor for Cello & Piano, L.135
07. 1. Prologue (lent)
08. 2. Sérénade (Modérément animé)
09. 3. Finale (Animé)
Dmitri Shostakovich (1906 – 1975)
Sonata For Cello And Piano, Op.40
10. 1. Allegro non troppo
11. 2. Allegro
12. 3. Largo
13. 4. Allegro
Hélène Grimaud (piano)
Sol Gabetta (cello)
-pastebin-
…………………………………………………………………………………………………………………….
---
---
---
Találatok: 23