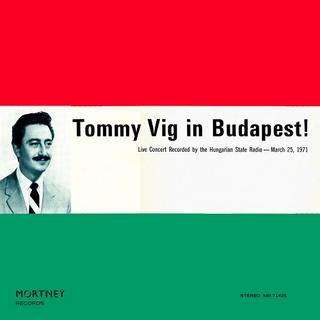 "Vig Tommy, a csodadobos" – így kezdődött a dolog 1946-ban: Tommy a Városi Színházban, a Zeneakadémián, a Fövárosi Nagycirkuszbann vívott dobpárbajokat a Chappy zenekar kíséretével, Beamter Bubival és Radnóti Tomival. Vig Tommy ekkor mindössze 7 éves volt… Vig Tamás néven született 1938. július 14-én, Budapesten. Édesapja Vigh György klarinétos. 1947-ben, 8 éves korában Bécsben lemezt készítettek vele, a korong a Der Kunst Trommler der Welt címet kapta. Tommy édesapja, Vigh György is közreműködött a lemezen, ő klarinétozott. 1956-ban, immár 18-evesen utazott újra Bécsbe, mint Ungarische Fluhtling…Fatty George Jazzklubjában és a bécsi Zeneakadémián szerepelt Joe Zawinullal. 1956. november 18-án menekült el a kommunizmus elől, és Amerikában igen nagy sikert aratott. 2006. júniusában hazatelepült. Többszörös díjnyertes (Down Beat Magazine (Chicago) + EmErTon Díj (Budapest) + Vibrafonosok Oszkár díja (Los Angeles) + Magyar Jazz Szövetség Pályázat Első Díj, Hangszereles kategória, Budapest 2006), a színészkedésbe is belekóstolt, Szörényi Éva fiát játszotta a Könnyű múzsa című nagysikerű filmben. Vig 1956-tól 2006-ig New Yorkban, Los Angelesben illetve Las Vegasban élt és muzsikált. Ő volt a hivatalos Olimpiai Jazz Fesztivál főrendezője Los Angelesben 1984-ben. Több, mint 1400 stúdiófelvételen szerepelt, kétszer játszott az Oszkár Díj televíziós előadásain, és 10 évig volt az Amerikai Komponisták Szervezetének alelnöke.
Tommy Vig – Vibraharp, Marimba and Percusion
Kőszegi Imre – Drums
Pege Aladár – Bass
Lakatos Béla – Piano
Tracklist:
01 – Staight, no chaser ( Thelonious Monk )
02 – Softly, as in the morning sunrise ( Sigmund Romberg ) 1971
03 – Autunum leaves ( Kozma Tibor ) 1971
04 – Oleo ( Sonny Rollins ) 1971
A digitalizálás és az utómunkák az Audio Design Studio-ban készültek 2011-ben. Köszönet az áldozatos munkájukért!
http://tiny.cc/mq2quz
Találatok: 60