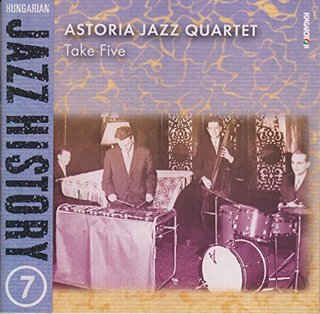 Az Astoria Jazz Quartet vezetője a zongorista Kertész Kornél volt. Neki köszönhető a modern jazz első két hivatalosan is megtűrt seregszemléje az 1958-as és 1959-es Savoy jam-session. A mára legendává vált zenekar 1963-ban kap lehetőséget önálló LP-re. A combo április 1-jén és 2-án négy közismert standardét vett fel az amerikai Modern Jazz Quartet stílusában és hangszerösszetételében (vibrafon, zongora, bőgő, dob). 1964. március 19-én az Anthology '64. Modern Jazz IV-V. címmel megjelent duplalemezre a Kertész Quartet újabb két standerdet játszott fel. Ezek a lemezek azóta is nagyon keresettek és a hat nóta közül különösen a Take Five napjainkban is sokszor idézett. Szinte nincs olyan jazzformáció a világon, amely legalább egyszer ne rögzítette volna Paul Desmond szerzeményét. Talán furcsán hangzik első hallásra, de ez az a kompozíció, amelyre esténként ma is táncra perdülnek Budapesten is.
Tracklist:
01 – Maori Blues
02 – Nica's Dream
03 – Take Five
04 – Tired Blues
05 – I've Lost Your Love
06 – Strollin'
07 – Lullaby Of Birdland
08 – All Of Me
09 – Laura
10 – It's Only A Paper Moon
11 – Moonglow
12 – Blue Skies
13 – Crazy Rhythm
14 – Lullaby Of The Leaves
https://zenekucko.com/asjaquatifi
Ha kicsomagolásnál jelszót kér, írd be a Zenekucko szót a megfelelő helyre.
Találatok: 71