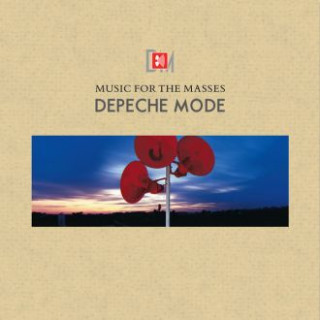 60 éves korában meghalt Andy Fletcher, a Depeche Mode alapító billentyűse.
Az 1001 Albums You Must Hear Before You Die (1001 lemez, amit hallanod kell, mielőtt meghalsz) sorozat 593-ik lemeze.
A Music for the Masses hangulata – a magyar Wan2 magazin 2005. novemberi száma szerint – "olyan, mintha egy szocialista nagyváros szürke panelházának ablakából kitekintve írta volna Martin, két nappal az után, hogy kihasználták, elhagyták és becsapták egyszerre. A dalok hangulatát fokozza a tompa, magas hangokat szinte teljesen nélkülöző hangzás. Szintén erősíti a kifejezést, hogy nagyon direktek, egyértelműek a szövegek itt nincs mellébeszélés, Martin minden baját egyenesen a hallgató nyakába zúdítja.
A "depeses"-ek hazájában (és azon kívül is) azt állítani, hogy van klasszikus Depeche Mode lemez, butaság, max legendás dalokat említhetünk. Ami mégis a Music For The Masses mellett szól, az a tény, hogy a DM ezzel tarolta le Kelet-Európát, és Amerikát is.
A zenekar több mint 91 millió lemezt adott el világszerte, fanatikus rajongás kíséri több éve, és itthon bitang erős rajongói bázisa is van. Mindezek ismeretében meg kell jegyeznünk, hogy – bár Angliában a szó szoros értelmében megbukott az album. Sokak szerint ez a mindenkori legjobb DM anyag, és ekkor csatlakozott véglegesen a zenekarhoz a zseniális hollandus, a fotográfus-vizualizátor Anton Corbijn, aki először a Question of Time klipforgatása kapcsán került a Mode közelébe és hogy a DM ekkor nyargalhatott át legálisan a tinimagazinok címlapjairól a komolyabb lapok borítóira.
Maga a Music For The Masses, melyet már neve is – ami egyébként egy vicc – erre predesztinál, különösen direkt szövegeivel és "mosott szar" hangulatával szinte magától értetődően lett sikeres a szocialista tömbben, és a depressziós magyarok körében. Az viszont kész rejtély, hogy az idegesítően optimista, fogpasztareklám mosollyal megáldott amerikai közönség mire harapott rá ebből a kifacsart és magányos lelkiállapotot igen híven manifesztáló muzsikából. Egyesek szerint ez az idegen, hideg és nem csak a maga nemében "istenkáromló", furcsa stílus igazán forradalmi dolog volt a (főként) narancsvidéki elidegenedett fiataloknak.
A zörejek, zajok, hangcseppek világában ezt nem is olyan nehéz elérni. Kihipózott, funkys gitár cserregésével igazi progresszív popként értelmezhető a Nothing, és az I Want You is, melyben a lihegést harmonika levegőgombbal, egy pornóból vett mintával és két arra tévedt segítőkész leány hozzájárulásával sikerült megkreálniuk.
A kislemezek is mind telibe találnak. A Strangelove igazi slágernóta, a nyitó Never let Me Down Again remek, húzós és telt hangzású költemény, előrevetítve a lemez egészének kiábrándultságát és tág értelmezési kereteit (ezt konkrétan már meleg és drogos számnak is nevezték). A Behind the Wheel – ha stílusosak akarunk lenni – szintén félrevezethet, a klipje pedig egyenesen zseniális, a Little 15 a kiskorú szex témát feszegeti ismét (lásd Question of Time). Mindannyian gigászi slágerek. Azonban nemcsak a szövegi és hangszerelési kifinomultságot és eleganciát jutalmazhatjuk piros ponttal, hanem a tagok közötti tökéletes harmóniát, és zeneiséget is. Ennek legeklatánsabb példája a Pimpf, mely ugyan rémisztő, mitöbb dermesztő hangjaival kitűnő horror-filmzene lehetne, de etűdszerű, Philip Glass-t idéző repetitív zongorajátékával nagyon előremutató darab. Alan Wilder ezt annak a számlájára rótta fel, hogy túl sok minimalistát hallgatott akkoriban.
Ezekhez a témákhoz és megoldásokhoz kitűnően illett Corbijn monokróm, ijesztő, szemcsés képi világa és szürreál ötletei, például a háromkerekű kiskocsi a Never Let Me Down Again klipjében. A harmónia dolgában nem szólhatunk sokat. Ekkorra már annyira összeérett a banda, hogy tökéletesen értelmezték és alakították át a saját maguk és a többi tag érzéseit zenévé, hangokká. Még az igazán személyes balladát, a szépséges Things You Said-et is, melyet Martin énekel, kellő érzékenységgel vette kézbe Alan Wilder.
01. Never Let Me Down Again
02. The Things You Said
03. Strangelove
04. Sacred
05. Little 15
06. Behind The Wheel
07. I Want You Now
08. To Have And To Hold
09. Nothing
10. Pimpf
+
11. Agent Orange
12. Never Let Me Down Again (Aggro Mix)
13. To Have And To Hold (Spanish Taster)
14. Pleasure, Little Treasure
Martin Gore (szövegíró, zeneszerző, billentyűs, gitáros, vokalista)
David Gahan (énekes, szövegíró)
Andrew Fletcher (billentyűs, vokalista, "mindenes")
Alan Wilder (billentyűs)
-pastebin-
---
---
---
Találatok: 87