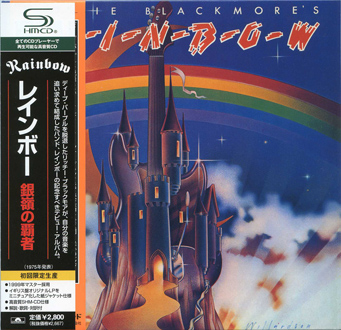 Nem sokkal azután, hogy Ritchie Blackmore lényegében kirúgta a Deep Purple-ből Ian Gillant és Roger Glovert (- Semmi személyes probléma, ez csak üzlet – közölte Gloverrel az utolsó koncert előtt!) újabb feszültségek keletkeztek az együttesben.
Az új felállással készített második albumba, a Stormbringerbe Blackmore szerint túlságosan sok funkos és soulos elemet csempészett a két új tag, David Coverdale és Glenn Hughes. A csapat ráadásul arra sem volt hajlandó, hogy rögzítse Steve Hammond "Black Sheep of the Family"-jének feldolgozását, a gitáros így a művészi nézeteltérések miatt új utakat kezdett keresni.
Ronnie James Dio zenekara, az Elf elkísérte a Deep Purple-t Stormbringer című lemezének turnéjára. Ezalatt az idő alatt barátkozott össze Blackmore a zenekarral, majd felvetette egy közös együttes ötletét. Eredetileg csak Dióval szeretett volna együtt dolgozni, de végül a Rainbow nem lett mást, mint az Elf új felállása más név alatt (csak a gitáros személye változott: Blackmore váltotta Steve Edwardsot). Emiatt Blackmore a lemez megjelenése után Dio kivételével mindenkit kirúgott, és újraépítette a zenekart. Az eredeti felállás sosem lépett színpadra.
Az 1975-ben megjelent lemez felvételei alatt Ritchie Blackmore még a Deep Purple tagja volt. Ronnie James Dio ezt tartotta kedvenc Rainbow-albumának.
/ekultura.hu/
01. Man On The Silver Mountain
02. Self Portrait
03. Black Sheep Of The Family (Quatermass cover)
04. Catch The Rainbow
05. Snake Charmer
06. The Temple Of The King
07. If You Don't Like Rock 'N' Roll
08. Sixteenth Century Greensleeves
09. Still I'm Sad (The Yardbirds cover)
Ronnie James Dio – ének
Ritchie Blackmore – gitár
Mickey Lee Soule – billentyűs hangszerek
Craig Gruber – basszusgitár
Gary Driscoll – dobok
………………………………………………………….
---
---
---
Találatok: 115