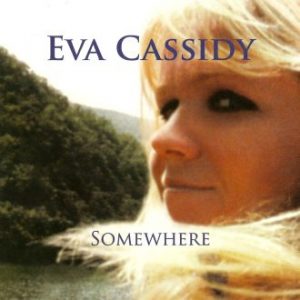 Eva Marie Cassidy (1963-1996) már kiskorában érdeklődött a zene iránt. Otthon apjától tanult meg gitározni. A testvéreivel családi együttest alapítottak. 1990-ben létrehozta az Eva Cassidy Bandet, és rendszeresen fellépett Washingtonban. Készültek stúdiófelvételei is, azonban a lemezek nem kerültek piacra, mert Cassidy nem volt hajlandó a kiadók stiláris követeléseit teljesíteni. Rögzítették több koncertjét is, életében azonban nem adták ki egyetlen lemezét sem.Cassidy így Washingtonon kívül ismeretlen volt. Négy évvel a halála után a BBC Radio 2 lejátszotta az Over the Rainbow és a Fields of Gold című felvételeit, amik komoly sikert arattak. Ezt követően a BBC Two tévé bemutatta az Over the Rainbow videóját.
Az ezután megjelent Songbird című albuma húsz hétig a Billboard slágerlista élén volt. A The Guardian szerint "generációja egyik legkiemelkedőbb hangja". Több stílusban is adott elő: jazz, blues, folk, pop, spirituálék.
Halála után lett világhírű.
Tizenkét évvel a csodálatos hangú és egyéniségű énekesnő, Eva Cassidy halála után jelent meg ez az albuma. Állítólag utoljára ezen a lemezén dolgozott.
Hogy miért csak akkor jelent meg? Nem tudom, de örülök neki, hogy megjelent.
Ezen a lemezen is, két saját szerzeményén kívül más előadók dalait adja elő senkihez sem hasonlítható, egyedi feldolgozásban.
A dalok:
1. "Coat of Many Colors" Dolly Parton 3:17
2. "My Love Is Like a Red Red Rose" Traditional 3:43
3. "Ain't Doin' Too Bad" Don D. Robey 3:41
4. "Chain of Fools" Donald Covay 4:10
5. "Won't Be Long" J. Leslie McFarland 3:47
6. "Walkin' After Midnight" Don Hecht, Alan Block 2:38
7. "Early One Morning" Eva Cassidy, Rob Cooper 2:20
8. "A Bold Young Farmer" Traditional 3:44
9. "If I Give My Heart" John Pennell 3:59
10. "Blue Eyes Crying in the Rain" Fred Rose 2:50
11. "Summertime" George Gershwin, DuBose Heyward, Ira Gershwin 3:04
12. "Somewhere" Eva Cassidy, Chris Biondo 4:54
A zenészek:
Eva Cassidy – vocals, backup vocals, guitar
Chris Biondo – bass guitar, acoustic guitar, synthesizers, percussion
Keith Grimes – electric guitar
Lenny Williams – piano, organ, synthesizers, orchestra
Raice McLeod – drums, percussion
Dan Cassidy – violin
Blues Webb – drums, percussion
William "JuJu" House – drums
Chris Walker – trumpet
Jen Krupa – trombone
Leonie & Amba Tremain – backup vocals
Steve Lima – guitar, bass guitar, drums, Hammond organ
Rob Cooper – Dobro and electric lap steel guitar
https://zenekucko.com/03687
Találatok: 33