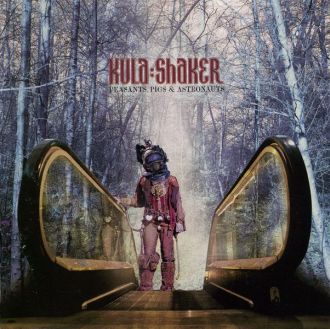 Ha a beat nagyágyúi nem vonulnak el anno Mahesh Maharishi jógihoz, India talán soha nem költözött volna be a popba. A Kula Shaker frontembere sem kattant volna rá a távoli országra. Így viszont mindennek az ellenkezője igaz.
Crispian Mills és Alonza Bevan 1988-ban ütköztek először a Temze-parti városban, aztán néhány további arc közreműködésével próbaterembe vonultak, illetve mindenféle pszichedelikus szórakozóhelyeken múlatták az időt. Mills India-mániájának engedve 1993-ban hátizsákos túrán térképezte fel a hinduizmus ősi helyeit. A feltöltekezés olyannyira jól sikerült, hogy 1995-ben meg is nyerték az In The City kvázi-tehetségkutatót, és K című első lemezük a leggyorsabban fogyó debüt lett az Oasis Definitely Maybe-je óta. Az egy IX. századi indiai uralkodóról, a szent életű Kulashekharáról elnevezett banda ott nyomult a Glastonbury feszt headlinerei között.
Az 1999-es, tehát a britpop kimúlta után megjelent Peasants, Pigs & Astronauts már vegyes kritikákat kapott. A leáldozáshoz hozzájárult továbbá Mills félresikerült és félremagyarázott, a horogkeresztről mint szimbólumról való eszmefuttatása is. A frontember egy interjúban a jelképet magasztalta, majd hozzátette, reméli, hogy egyszer lángoló horogkeresztek előtt produkálhatja magát, és különben sem hisz a demokráciában. Hiába jött a bocsánatkérés, mondván, ő csupán a szvasztika eredeti indiai jelére gondolt, a sajtó mégis nácinak bélyegezte. Ez bőven elég volt a buktához. A kétezres évek eleje az önálló projektek időszakaként telt a banda életében, majd "titkos" koncertek és egy villámgyors tesztturné után jött az elkerülhetetlen reunion. Bár a 2007-es Strangefolk végül csak a brit lista 69. helyéig araszolt előre, mégis löketet adott a zenekarnak.
A Kula Shaker leginkább a Bors Őrmester-zsakettes The Beatles-hez igazítja magát, miközben a Their Satanic Majesties Request-kori The Rolling Stones is beköszön. De itt vibrál a Traffic és az UFO Clubban szétázott Pink Floyd is. Az égi koncertterem sarkában pedig Brian Jones és George Harrison szippantgatnak mélyeket vízipipájukból. A kaleidoszkópikus kavalkádot az Oasis színezi tovább, és persze minden hangban és hangszerben (tabla, szitár, tambura) India rezonál.
(est.hu)
01. Great Hosannah
02. Mystical Machine Gun
03. S.O.S.
04. Radhe Radhe
05. I'm Still Here
06. Shower Your Love
07. 108 Battles (Of the Mind)
08. Sound of Drums
09. Timeworm
10. Last Farewell
11. Golden Avatar
12. Namami Nanda-Nandana
13. Stotra
Közreműködő zenészek:
Crispian Mills – ének, gitár
Alonza Bevan – basszusgitár
Paul Winterhart – dob
Jay Darlington – billentyűs hangszerek
https://pastebin.odavisz.cam (klikk)
2018-07-09 bejegyzés frissítése.
Találatok: 50