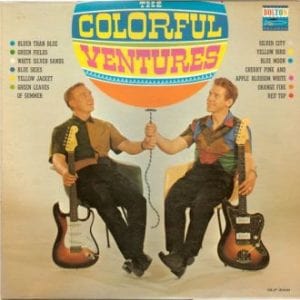 1961. októberében jelent meg a Ventures együttes negyedik nagylemeze, a később oly népszerű koncepcióalbumok egyik őse: a számok mind egy témáról, a színekről szólnak.
A lemez borítóján Bob Bogle és Don Wilson láthatóak, a hátsó borítón nincs utalás a zenekar tagjaira, de az angol London Records későbbi kadásának hátsó lemezborítója a következő információkat tartalmazza: Bob Bogle and Don Wilson with Nokie Edwards (bass and guitar), Howie Johnson (drums) Orchestral backing arranged and conducted by Hank Levine.
Az album eredetileg 12 számot tartalmazott, a Liberty (a Dolton Records felvásárlója) 1999-es kiadását megfejelték 3 – az eredeti koncepciótól idegen – ráadásszámmal.
A számok:
01-Blue Moon (The Colorful Ventur
02-Yellow Jacket
03-Bluer Than Blue
04-Cherry Pink And Apple Blossom
05-Green Leaves of Summer
06-Blue Skies
07-Greenfields
08-Red Top
09-White Silver Sands
10-Yellow Bird
11-Orange Fire
12-Silver City
+
13-Genesis (bonus tracks)
14-Skip to M'Limbo
15-Pedal Pusher (live)
https://zenekucko.com/03507
Találatok: 20