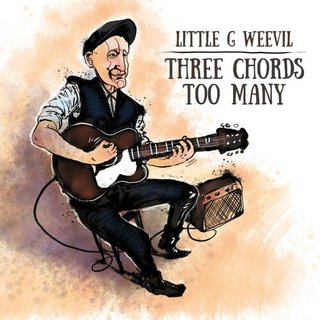 Little G. Weevil (Szűcs Gábor) 1977-ben született Budapesten. Tizenhét eves korában John Lee Hooker hatására kezdett el bluest játszani. Pár évvel később a Spo-Dee-O-Dee zenekar tagjaként, majd saját formációja, a Pure Blues élén került be a hazai zenei köztudatba.
Négy lemezt, több száz hazai és külföldi koncertet követően Gábor 2004-ben az Egyesült Államok déli részébe költözött, hogy – elmondása szerint – végre blues zenész legyen.
"Ahogy egyre jobban beleástam magam ebbe a kultúrába, tudtam, hogy valami hiányzik a zenémből. Igazam lett."
2005-ben Little G. első európai zenészként egy éves szerződést kapott a legendás memphisi Beale Streeten, turnézott Alabama, Mississippi, Arkansas államokban, fellépett a világ egyik legnevesebb bluesfesztiválján, a King Biscuit Fesztiválon Big Jack Johnson és Lonnie Shields társaságában. Első szólófelvételeit szintén Memphisben, helyi zenészekkel készítette. 2007. áprilisában Little G. az Egyesült Államok-beli King Mojo Records-szal kötött szerződést.
Új lemezéről így vallott:
"Koncerteken a kedvemtől függ, mennyi feldolgozást adok elő, de például lemezre mindenképp saját szerzeményeket érdemes rögzíteni szerintem. Most is így van, az új albumon egy feldolgozás hallható majd, illetve másfél, mert a másik instrumentális.
Egyébként ez a lemez két sessionből áll: a CD első fele St. Louisban készült a Blue Lotus stúdióban, a másik fele pedig itthon Magyarországon. Az Államokban Paul Niehaus volt a vendég több hangszeren, a budapesti felvételeken Pribojszki Matyi, Nemes Zoli és Pintér Zsolt közreműködik pár számban.
Igazi blues lemez lett, nincs túlbonyolítva. Egyszerű, de velős, feelinges. Ahogy én ezt szeretem. Three Chords Too Many, azaz "Három akkord túl sok" címet kapta az anyag. Innen már lehet tudni, mire számíthat az ember. "
Tracklist:
01 – Apple Picker (Acoustic)
02 – Dad\'s Story
03 – You\'re the One
04 – Going Back South
05 – Place a Dollar in My Hand
06 – The Tale of Captain Siegal
07 – One Little Cup
08 – Wealthy Man
09 – Outdated Citizen
10 – Sunshine Blues
11 – Meet Me in the City
12 – Saving a Marriage
https://zenekucko.com/ligwe3chtoma
Ha kicsomagolásnál jelszót kér, írd be a Zenekucko szót a megfelelő helyre.
Találatok: 64