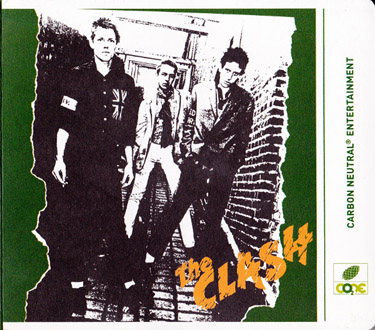 Az 1001 Albums You Must Hear Before You Die (1001 lemez, amit hallanod kell, mielőtt meghalsz) sorozat 377-ik és a The Clash 1. lemeze. "A számaik rövidek és lényegretörők, az előadásmódjukból úgy tűnik, hogy kifejezetten kedvelik a rockzenét."
A The Clash igazi debütálása az 1976 szeptemberében megrendezett 100 Club-beli punkfesztivál volt, amelyen egyszerre mutatkozhattak be az eddig csak elszigetelten működő zenekarok. A New Musical Express helyszínen tartózkodó tudósítója, Geoff Hill a következőket írta a Clashről: "A számaik rövidek és lényegre törők, az előadásmódjukból úgy tűnik, hogy kifejezetten kedvelik a rockzenét."
Az albumról első kislemezként megjelentetett White Riot egyértelmű állásfoglalás volt az ekkortájt Angliában egyre inkább fokozódó fajgyűlölet ellen. Miközben Rod Stewart és Eric Clapton elismerően nyilatkoztak egy nyíltan rasszista politikusról (Enoch Powell), a The Clash részt vállalt a Rock Against Racism kampányban, zenéjébe pedig egyre több fekete elemet vitt be. A  The Clash tagjai a Sex Pistols látszólag céltalan nihilizmusmával szemben megpróbálták elhitetni, hogy az általuk ábrázolt negatív jelenségek megváltoztathatók. Törvényen kívüli nagyvárosi gerilláknak tartották magukat, akik a társadalmi igazságtalanságok ellen harcolnak. Mindezt olyan elképesztő energiával és beleéléssel adták elő, hogy nem lehetett kételkedni a hitelességükben.
01. Janie Jones
02. Remote Control
03. I'm So Bored With The U.S.A.
04. White Riot
05. Hate & War
06. What's My Name
07. Deny
08. London's Burning
09. Career Opportunities
10. Cheat
11. Protex Blue
12. Police & Thieves
13. 48 Hours
14. Garageland
Joe Strummer – ének, ritmusgitár
Mick Jones – szólógitár, vokál
Paul Simonon – basszusgitár, vokál
Nicky "Topper" Headon – dob
https://pastebin.odavisz.cam (klikk)
2019 04. 09 poszt frissitése
---
Egy kis mozi…
LONDON TOWN (2016) – feliratos 
A tizenöt éves Shay London egyik külvárosában éli kilátástalan életét 1978-ban. Azután véletlen folytán megismeri a The Clash zenéjét, amelyet sajátos kinyilatkoztatásként él meg. A punkbanda számai egy egészen új világot nyitnak meg előtte. Mindez megváltoztatja életét, szerelmes lesz a lázadó természetű Vivianba, és különös kapcsolatba kerül a The Clash felvillanyozó frontemberével, Joe Strummerrel. A zenés film bemutatja annak a mozgalomnak a hangját és lelkét, ami megrengette a világot.
ONLINE : https://youtu.be/NJ9jm0zg3V0
DOWNLOAD / Letöltés : https://cloud.mail.ru/public/9n21/6P72yRyFf
---
---
---
Találatok: 61