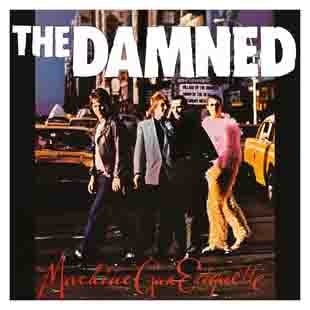 Az 1001 Albums You Must Hear Before You Die (1001 lemez, amit hallanod kell, mielőtt meghalsz) sorozat 451-ik és a The Damned harmadik lemeze.
Egy kis punktörténelem: '76 októberében a Damnedé volt az első punk kislemez ("New Rose"), '77-ben pedig két albumot is kiadtak, a klasszikus Damned, Damned, Damned-et és a harmatgyenge Music for Pleasure-t. A sokak által legjobb albumuknak tartott '79-es Machine Gun Etiquette megjelentetése után a nyolcvanas években a goth rock stílus felé fordultak, miközben az átmenetileg kilépett gitáros, Captain Sensible a kommersz pop vonalon próbálkozott. Bár az énekes Dave Vanian is összehozott közben egy másik zenekart The Phantom Chords néven, a Damned kisebb megszakításokkal folyamatosan működik.
01. Love Song
02. Machine Gun Etiquette
03. I Just Can't Be Happy Today
04. Melody Lee
05. Anti-Pope
06. These Hands
07. Plan 9 Channel 7
08. Noise, Noise, Noise (feat. Joe Strummer – The Clash)
09. Looking at You (MC5 cover)
10. Liar
11. Smash It Up (Part 1)
12. Smash It Up (Part 2)
–
13. Ballroom Blitz (Sweet cover, feat. Lemmy – Motörhead)
14. Suicide
15. Rabid (Over You)
16. White Rabbit (Jefferson Airplane cover)
Dave Vanian – ének
Captain Sensible – gitár, billentyűk, vokál
Rat Scabies – dob, vokál
Algy Ward – basszusgitár, vokál
https://pastebin.odavisz.cam (klikk)
2018 07. 22 poszt frissítése
---
---
---
PS: egy kis korkép
Meglepett, amikor a punk a Roxy-, 100 Club-, Nashville-féle kis klubokból átkerült olyan nagy helyekre, mint a Rainbow?
Igen. Én mindig azt gondoltam, hogy az emberek előbb-utóbb rájönnek, hogy az igazi zenét az olyan zseniális zenészek csinálják, akik képesek csuklóból kirázni egy rakás tökéletesen megformált, gyönyörű hangot, mint Eric Clapton, és a többi f@szsz0pó. Tényleg nem hittem, hogy ez az egész három-négy hétnél tovább tarthat, ezért akartunk zenekari fotót az első lemezünk borítójára… Erre amikor megjelentünk a fotózáson, egy rakás habostortával és borotvahabbal vártak ránk, hogy ezeket szét fogják kenni az arcunkon. Erről nem tudtam előre, és totál az volt bennem, hogy ez lesz az egyetlen lemez egész életemben, amin rajta leszek, és ezek meg itt összekenik az arcomat, és a nagynéném meg a bácsikám Glasgowban nem fognak felismerni a kibaszott lemezborítón. Teljesen ki voltam akadva, dühöngtem. Aztán amikor megláttam, milyen képet választottak az elejére, akkor mondom, rendben, nézzük mi van a hátulján. Nos, ott meg egy koncertfotó volt, amin én háttal állok. B@szdmeg, ezt nem tudtam elhinni, kénytelen voltam vinni nekik egy útlevélfotót, amit ráraktak a koncertképre, oda, ahol a monitor volt, szóval végül mégis csak rákerült az arcom a borítóra.
Hogy kerültetek Amerikába, amikor itt még nem is jelent meg tőletek semmi?
Nem is tudom. Nagyon kis költségvetésű turné volt, játszottunk a CBGB's-ben. Emlékszem, az a hülye pics@ Patti Smith üvöltözött velünk, hogy takarodjunk az öltözőből. Ők voltak aznap este a második fellépő, nekünk meg a lehető leggyorsabban le kellett nyomni a bulit, jól viselkedni, összepakolni, és elhúzni. Erre ez, meg a gitáros csávó lehülyeseggfejezett minket. Na mondom, kösz szépen, így üdvözöl minket a New York-i punk színtér. És akkor átmentünk Los Angelesbe.
Ahol két bulit játszottatok, ugye?
Igen. A Televisionnel kellett volna játszanunk, de lemondták, úgyhogy végül a padlón kellett aludnunk valakinek a lakásában, aki a Weirdoes nevű zenekarban játszott. Egy elég sebtében összekapott, kis bulit nyomtunk. A bejáratnál ki volt téve egy doboz azzal a felirattal, hogy "Járulj hozzá a Damned hazautazásának költségeihez", mert még a repülőjegyre se volt pénzünk.
Miért hagyják többnyire figyelmen kívül a Music for Pleasure albumot?
Mi mindig is egy ilyen kísérletező hozzáállású zenekar voltunk, szerintem sosem ismételtük magunkat. Persze vannak végig jellemző vonások, de minden alkalommal valami mást csináltunk. A második albumnál úgy gondoltuk, hogy jól van, megcsináltuk a punk lemezt a Damned, Damned, Damned-del, akkor most csináljunk valamit Syd Barrettel, az őrült pszichedelikus zsenivel. A Pink Floyd tagjainak bűntudata volt, amiért olyan durván bántak Syddel, ahogy kidobták a zenekarból, és tetszett volna nekik, ha azzal, hogy berángatjuk a stúdióba, újra aktiváljuk a legendás zenészi képességeit. Szóval felajánlották a stúdiójukat a lemezfelvételhez, mi meg ott ültünk, vártuk Sydet, aki az egyik példaképem, alig vártam, hogy találkozhassak vele, erre hatórányi várakozás után belép Nick Mason a Pink Floyd kib@szott dobosa, hogy "Bocs srácok, de Syd mégsem tudta bevállalni, én leszek a producer." Nick Mason. Nem tudtuk elhinni. Mit csinál ez itt? A Pink Floyd akkori felállása finoman szólva nem volt népszerű punk körökben, mivel azt a rakás dinoszaurusz-szart képviselték, amitől próbáltunk megszabadulni. Így persze katasztrofálisan sült el az egész. A zenekar már feloszlásnak indult, Nick Masonnek meg fingja sem volt, mint kezdjen velünk, a keverésről nem is beszélve. Próbáltunk vele dzsemmelni, de még dobolni sem tudott. Nem tudta eljátszani a "Johnny Be Good"-ot. Visszakérdezett, hogy "az meg mi?" Katasztrófa volt.
Milyen érzés volt, amikor Robert Plant és Marc Bolan feltűntek a koncertjeiteken?
Imádtuk Marc Bolant, nagyszerű ember volt, mert… Néhányan a régiek közül megértették, hogy a punk egyszerűen csak más, egy kicsit veszélyes, de nem fogják miatta elveszíteni a munkájukat. Volt aki szerette, volt, aki nem. Ők ketten nagyon bírták. Bolan nem csak a bulikra járt le, de elhívott minket turnézni is a T. Rexszel. Ez pont arra az időszakra esett amikor áttért az egészséges életmódra. Mi ott zabáltuk a zsíros műkaját az útmenti kajáldában, ő meg mackófelsőben kocogott az épület körül. Szép komótosan rendelünk magunknak még egy adag koleszterinbombát, közben az ablakon át látjuk, ahogy Bolan elhúz mellettünk. Leszokott a piáról, leszokott a drogokról, és erre meghalt autóbalesetben. Ő rendes ember volt.
Bezzeg Phil Collins ilyeneket mondott, hogy "megvizsgáltam ezt a punknak mondott jelenséget, és semmi értékelhetőt nem találtam benne." Micsoda seggfej, egyetlen lehetőséget sem mulasztanék el, hogy b@sz0g@th@ss@m ezt a taplót.
……………………………………………………………………………………………………………………………
Találatok: 26