A Riverside története 2001-ben kezdődött, amikor két jóbarát, Piotr Grudziñski gitáros és Piotr Kozieradzki dobos Marillion-t hallgatott, és az élménytől fellelkesülve úgy döntöttek, létrehoznak egy progresszív rock zenekart. Hozzájuk csapódott Jacek Melnicki billentyűs, de a felállás akkor vált teljessé, amikor Mariusz Duda basszusgitáros is belépett, aki kényszerből lett énekes. A zenekar egyébként nem a technikás, agyon variált végéről ragadja meg a stílust, hanem sokkal inkább egyfajta hangulati – érzelmi oldal dominál, ami nagyban áthatja a dalokat és ehhez társul a tökéletes hangszeres tudás.
A zenekartagok többsége technikás extrém metal zenekarokból érkezett, tehát a gyorsaság és a komplexitás a kisujjukban van: azonban a Riverside mind a négy hangszerese következetesen alárendeli magát a sokszor nagy ívű, néhol egészes populáris direktséggel ható daloknak.
2016-ban Piotr Grudziñski szívrohamot kapott, ami végzetes volt számára.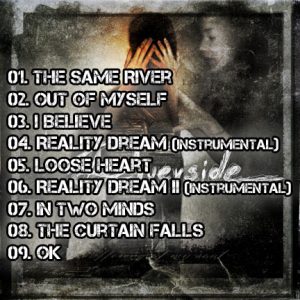 (2004) – Out of Myself [FLAC]
---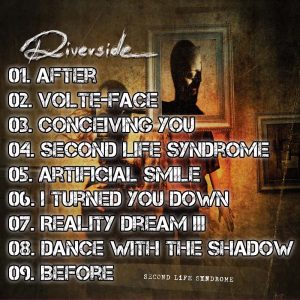 (2005) – Second Life Syndrome [FLAC]
---
(2007) – Rapid Eye Movement [FLAC]
---
(2009) – Anno Domini High Definition [FLAC]
---
(2013) – Shine of the New Generation Slaves (Limited Edition) [FLAC]
---
(2015) – Love, Fear and the Time Machine [FLAC]
---
(2016) – Eye of The Soundscape [FLAC]
---
(2017) – Lost 'N' Found – Live In Tilburg 2CD [FLAC]
---
(2005) – Voices in My Head (EP) [FLAC]
---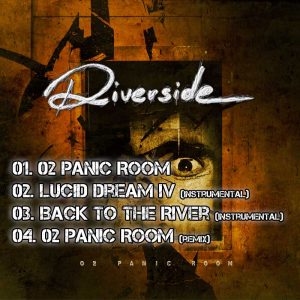 (2007) – 02 Panic Room (EP) [FLAC]
---
Zespół  Riverside:
Mariusz Duda – ének, basszusgitár
Piotr Grudziński – gitár
Michał Łapaj – billentyűsök
Piotr Kozieradzki – dobok
++++++++++++++++++++++++++++++++++++++++++++++++++++++++
Riverside – Wasteland (2018) © InsideOut • Sony [Special Edition]
Nem lehet könnyű folytatni egy olyan vállalkozást, ahol egy meghatározó tag, a tökéletesen működő gépezet egy fontos láncszeme, és nem utolsó sorban egy jóbarát távozik örökre. Piotr Grudziński gitáros rettenetesen fiatalon, mindössze 40 évesen hagyott itt minket egy hirtelen bekövetkező szívmegállást követően. E tragédia után a lengyel proggerek sorsa ekkor úgy tűnt, hogy végérvényesen meg is pecsételődik, ám Mariusz Duda és csapata úgy döntött, hogy trióban is folytatják a mára teljességgel kifinomult zenei világgal rendelkező csapat pályafutását.
Ahogy Steven Wilson, úgy Mariusz Duda és lengyel barátaink is teljesen magukba fordultak. Az egész Wasteland lemez nyomasztóan depressziós lett, amiben minimalista költői képek és dallamok kavarognak alternatívan alulkevert rock és metál hangszerelésű zenével. Olyan ez a lemez, mint egy horrorfilm, amiben skizofrén gyilkos agyában utazunk öngyilkosságról-öngyilkosságra, dalról-dalról és a végén sem kapunk feloldozást.
(passzio.hu+shock.hu)
01. The Day After – 01:48
02. Acid Rain – 06:03
– I. Where Are We Now?
– II. Dancing Ghosts
03. Vale of Tears – 04:48
04. Guardian Angel – 04:24
05. Lament – 06:09
06. The Struggle for Survival – 09:32
– I. Dystopia
– II. Battle Royale
07. River Down Below – 05:41
08. Wasteland – 08:25
09. The Night Before – 03:59
Riverside:
Mariusz Duda (Lunatic Soul is) – ének, gitár, basszusgitár
Piotr "Mittloff" Kozieradzki – dob
Michal Łapaj – billentyűs hangszerek
közreműködik:
Maciej Meller – gitárszólók
Mateusz Owczarek – gitárszólók
Michał Jelonek – hegedű
http://justpaste.odavisz.cam (klikk)
::::::::::::::::::::::::::::::::::::::::::::::::::::::::::::::::::::::::::::::::::::::::::::::::::::::::::::
Találatok: 28