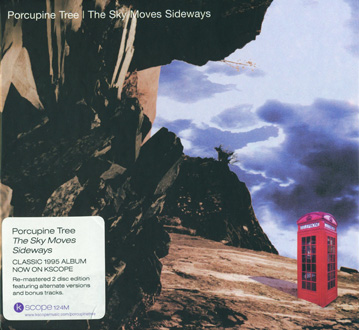 The Sky Moves Sideways is the third studio album by Porcupine Tree, first released in February 1995.
The Sky Moves Sideways was the first Porcupine Tree album to be released in the US (albeit with an altered track list), and the first on which Porcupine Tree was actually a band rather than simply a pseudonym for Steven Wilson. This transition took place while the album was being recorded, so two of the tracks – namely "The Moon Touches Your Shoulder" and "Dislocated Day" – are performed entirely by Wilson, while the full band appears on the remainder of the album (including "Stars Die", a UK single which was added to the US version of the album).
In 2004, a new, two CD version of the album was released, featuring newly recorded drums by Gavin Harrison on these two tracks.
There are thus three distinct versions of this album – the original UK version, the US version, and the 2004 remaster – no two of which feature the same track list, or the same version of "Moonloop".
(http://stevenwilsonhq.com/sw/recordings/the-sky-moves-sideways/)
01. The Sky Moves Sideways – Phase 1
   I. The Colour of Air
   II. I Find That I'm Not There
   III. Wire the Drum
   IV. Spiral Circus
02. Dislocated Day
03. The Moon Touches Your Shoulder
04. Prepare Yourself
05. The Sky Moves Sideways – Phase 2
   I. Is…Not
   II. Off the Map
06. Stars Die
07. Moonloop (improvisation)
08. Moonloop (coda)
Porcupine Tree:
Steven Wilson: vocals, guitar; keyboards, tapes, programming and mix engineer
Colin Edwin: bass
Richard Barbieri: keyboards; electronics, programming
Chris Maitland: drums
Additional musicians:
Ricky Edwards: additional percussion
Theo Travis: flute on "The Sky Moves Sideways Phase 1"
Suzanne J. Barbieri:vocals on "The Sky Moves Sideways Phase 2"
Gavin Harrison – drums on "Dislocated Day" and "Moon Touches Your Shoulder"
https://pastebin.odavisz.cam (klikk)
---
---
---
Találatok: 61