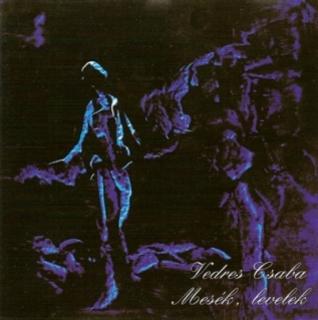 Vedres Csaba (Budapest, 1964–) zeneszerző, zongoraművész, kántor. Általános iskola negyedik osztályos korától kezdve zongorázni tanult a kerületi zeneiskolában. 1981-ben hallotta először az Emerson, Lake & Palmer, valamint a King Crimson együtteseket, ugyanekkor találkozott Frank Zappa zenéjével.
Ugyanakkor rendkívül erős hatás érte Beethoven Karfantáziája felől. Ez utóbbi hatására úgy döntött, hogy nem a dzsessz-tanszakra (az ún. dzsessz-konzira) felvételizik a Bartók Béla Zeneművészeti Szakközépiskolában, hanem komolyzenei szakra. A "Manticore Művészeti Misszió" tagjaként több műhelyfoglalkozáson vett részt, ahol zenei, irodalmi eszmecseréket folytatott egykori gimnáziumi osztálytársaival, illetve újonnan felfedezett alkotókkal. Egy ilyen wekerlei találkozó után alakult az After Crying zenekar 1986-ban.
Céljuk a "modern, de hallgatható" zene megalkotása volt. 1992-ben beiratkozott a Váci Egyházmegyei Kántorképzőbe, amelyet 1996-ban, kántordiplomával a birtokában befejezett. 1994-ben kilépett az After Crying együttesből, s azóta leginkább szólópályán (zeneszerző, zongorista, énekes) dolgozik.
A zongorista első szólóalbuma, amely már a kezdet kezdetén sejtetni engedte az előadóban rejlő hangszeres tudást és kifogyhatatlan ötletgazdagságot. Magától értetődő, hogy helyenként visszaköszönnek az After Crying-ban eltöltött évek, ugyanakkor Rick Wakeman hatása sem elhanyagolható. A több, mint 60 perces CD a maga 22 tételével megunhatatlan zenei világba kalauzol.
"A sötét szoba meséi"-t 1993 decemberében Chick's Songs-jának hatására írtam. Egyedi hangulatú improvizációkból tisztultak le – valamivel később – zongoradarabokká. A rockzene, a jazz, a klasszikus zene stíluselemei egyaránt kihallhatók belőlük.
A "Levelek" című ciklus tételeiben az izgatott leginkább, hogy milyen szemérmes romantika rejtőzik a "modern ember" életének monotóniája, szívének zártsága, életmódjának hajszoltsága mögött. Talán egyfajta ezredvégi lakótelep-romantika? Nem tudom. A kérdésre ebben a néhány darabban próbáltam megtalálni a választ. — Vedres Csaba
Tracklist:
01 – A sötét szoba meséi (The Tales Of A Dark Room) I.
02 – A sötét szoba meséi II.
03 – A sötét szoba meséi III.
04 – A sötét szoba meséi IV.
05 – A sötét szoba meséi V.
06 – A sötét szoba meséi VI.
07 – A sötét szoba meséi VII.
08 – A sötét szoba meséi VIII.
09 – A sötét szoba meséi IX./b
10 – Így szólt a madár: (And The Bird Said:) …REMIX
11 – Levelek (Letters) I.
12 – Levelek II.
13 – Levelek III.
14 – Levelek IV.
15 – Levelek V.
16 – Levelek VI.
17 – Levelek VII.
18 – Levelek VIII.
19 – Álom (Dream)
20 – Sodrásban (Drifted)
21 – Az utolsó levél (The last letter)
22 – Utóirat (Postscript)
Külön köszönet baljan-nak a lemezért és az eredeti feltöltésért!
https://zenekucko.com/vecsameslev
Ha kicsomagolásnál jelszót kér, írd be a Zenekucko szót a megfelelő helyre.
Találatok: 107