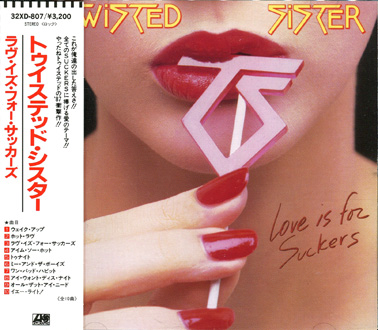 We're Not Gonna Take It – Egy kínosan vicces(?) klip, amitől nem csak a banda lett népszerű, hanem a videoklip, mint műfaj is. Dallamos, vagy másként mondva haj-rock volt ez a legjavából. A zene saját bevallásuk szerint "a Slade találkozása a Sex Pistols-al", amivel a Twisted Sister zenéjének lázadó gyökerére és glam-ízű dallamosságára utalnak.
A csapatnak az egész pályafutása küzdelem volt. 10 évet vártak az első lemezükre, amit végül a brit UFO zenekar legendás basszusgitárosa, Pete Way segített világra nekik. Az 1982-1987 közötti kreatív korszakukban csupán öt stúdió lemezt sikerült kiadniuk, amiből egyik sem lett átütő siker. Lázadó-szabados paródia ruháik és szövegeik miatt, még szenátori meghallgatáson is kikötöttek 1985-ben, ami szinte példa nélküli az egész rockzenében. A Love Is for Suckers a csapat ötödik, egyben utolsó valós stúdió albuma, bár egy ideje már az is tudható, hogy már ez sem Twisted Sister sorlemeznek készült, hanem Dee Snider bemutatkozó szóló albumának, mert a zenekar ekkor már tulajdonképpen nem működött.
/passzio.hu/
01. Wake Up (The Sleeping Giant)
02. Hot Love
03. Love Is for Suckers
04. I'm So Hot for You
05. Tonight
06. Me and the Boys
07. One Bad Habit
08. I Want This Night (To Last Forever)
09. You Are All That I Need
10. Yeah Right
Hivatalosan:
Dee Snider – ének
Eddie "Fingers" Ojeda – gitár, vokál
Jay Jay French – gitár, vokál
Mark "The Animal" Mendoza – basszusgitár, vokál
Joe Franco – dob
Valójában:
Reb Beach – gitár
The New West Horns Jimmy Chalfant – vokál
Steve Whiteman – vokál
Kip Winger – vokál
Beau Hill – billentyűs hangszerek, vokál
Producer: Beau Hill
https://pastebin.odavisz.cam (klikk)
…………………………………………………………………………………………………………………………..
A dal a Stay Hungry (1984) albumon jelent meg.

---
---
---
Találatok: 98