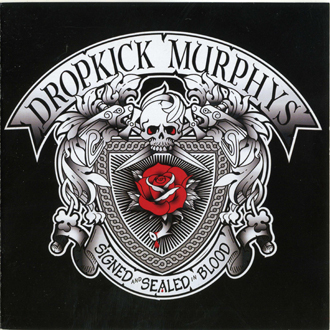 A Dropkick Murphy's egészséges arányban ötvöz egy rakás fontos dolgot, mint a hagyományok tisztelete, a punkos lendület, az őszinte érzékenység, az önkritikus humor, a természetes hazafiasság, az önfeledt vidámság és a csibész bajtársiasság. Mindezt valahogy olyan vagányul tudják összegyúrni, mint senki más. Erre a "The Season's Upon Us" a jó példa – valahogy így zajlik a srácoknál a Karácsony:
01. The Boys Are Back
02. Prisoner's Song
03. Rose Tattoo
04. Burn
05. Jimmy Collins' Wake
06. The Season's Upon Us
07. The Battle Rages On
08. Don't Tear Us Apart
09. My Hero
10. Out On The Town
11. Out Of Our Heads
12. End Of The Night
Dropkick Murphy's:
Al Barr – lead vocals
Tim Brennan – guitars, accordion, bouzouki, piano, whistle, vocals
Ken Casey – lead vocals, bass guitar
Jeff DaRosa – banjo, bouzouki, mandolin, mandola, acoustic guitar, piano, autoharp, vocals
Matt Kelly – drums, vocals
James Lynch – guitars, vocals
Scruffy Wallace – bagpipes, whistles
Additional musicians:
Winston Marshall – guest banjo on "Rose Tattoo"
Michelle DaRosa – vocals on "Rose Tattoo" and "The Season's Upon Us"
Parkington Sisters – strings on various songs, vocals on "End of the Night" and "Shark Attack"
Niki Cremmen – vocals on "Rose Tattoo"
So Many Close Friends – additional gang vocals on various songs
http://pastebin.odavisz.cam (klikk)
A bostoni ír katolikus munkáskölykök már több éve vegyítik a punk rockot/hardcore-t az ír népzenével. Két legjobb albumuk a Sing Loud, Sing Proud (2001), illetve a Blackout (2003) volt, és ezeket bizony legalább annyira nehéz überelni, mint a Bushmill's és a Jameson whiskeyket.
A klippel is megtámogatott balladás "Rose Tattoo" úgy jó, ahogy van, hibátlan, hiánypótló darab, mely a hit, eszmék, példaképek, szerelmek megörökítéséről szól tetoválások formájában. Az ehhez hasonló fülbemászó dalok mellett a Dropkick Murphy's másik két erőssége a kelta dallamok beúsztatása, felpörgetése és bedurvítása ("The Battle Rages On"), illetve a magával söprő együtt skandálós kocsmadalok, melyek végén az ember már nem is szeretne ír lenni, mert már írebbnek hiszi magát Shane MacGowannél is és kétpofára vedeli a Guinnesst. Az albumon főleg ez utóbbiból van sok, úgyhogy tutira bővülni fog a koncert-repertoár, lásd az albumnyitó "The Boys Are Back"-et vagy az albumzáró "End Of The Night"-ot, amely után nehéz lesz hazamenni a koncertekről.
---
---
---
Találatok: 36