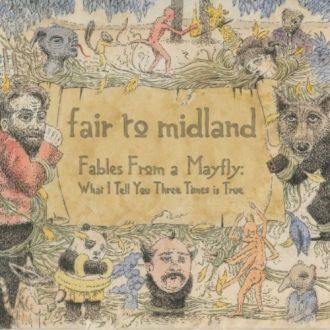 A Fair to Midland együttes 1998-ban alakult Texas állambeli zenészekből, és valami egészen egyéni hangvételű zenét játszanak.
Progresszív és hard-rock elemek keverednek benne, és az egészet fűszerezi egy kis amerikai feeling. Christopher Fudurich neves producer, zenész és
kritikus írta zenéjükről : "úgy hangzik, mintha a Rush, a Pink Floyd, a Dream Theater, a Mars Volta, Gary Numan és a Pantera mutáns zabigyereke felnőve elindult volna, hogy a sivatagban megalapítsa saját vulkán-imádó világvége-kultuszát."
"Zenéjük modern rock elegye az art rock-nak, az alternative metalnak, folkos elemeket használnak, mindezt progresszív felfogással teszik, amolyan populárisabb hangvételű prog-core szerűséggé. Serj Tankian hatásait végig fel lehet fedezni az új dalaikon, ami nagyon jót tett a dolognak…
Énekesük Darroh Sudderth a főszereplő, ugyanis szerintem Patton és Tankian óta nem volt ilyen sokszínű hangú előadó a modern rockzenében. A srác alaposan végigénekli a manapság szokásos palettát, csak az átlagnál sokkal jobb az énekhangja hangja. Ha kell popzenein érzékeny fiatalember, ha hörgésbe nem is fog, de alaposan be is tud vadulni. Pont, ahogy a zenei aláfestés megköveteli…
A zene iagzi multi-stílusú crossover rockzene, nagyon el lehet benne veszni. Az eszet a billentyűs
hangszerek, sokszor a zongora teszi a dalokba, a gitárok a U2 szellősségét és az alternatív húzást is tudják, mindezek mellé kapunk néhány jól sikerült ritmikai játékot is. Modern dinamikai és energia játékokkal. Kiszámíthatatlanul, de populáris formákat járnak körül, a lehető legszórakoztatóbban.
Minden stílusból merítenek, profin fel tudják használni a hetvenes évekre jellemző klasszikus rock
hammondokat ugyanúgy, mint prog-rock vagy funk elemeket, de a szintetikum és a spanyol gitár is bekerül, ha kell. Szóval zeneileg alaposan megkavarták a cuccot, Darroh Sudderth van annyira nagyszerű énekes, hogy simán hozza a zene mellé a maga hang-stílus kavalkádját, a
folkostól és az alternatív-szerűségen keresztüll a rockosan át az üvöltésig…
Innovációból nincs hiány, persze pont ettől néha nem is egyszerű hallgatni. A jövőben biztosan oda kell majd rájuk figyelni.
De, már most is képesek voltak néhány zseniális sláger megírására, amivel biztosan fogunk a modern rock slágerlistákon vagy klipekben találkozni…"(Passzio.hu)
A számok:
1. Dance of the Manatee
2. Kyla Cries Cologne
3. Vice/Versa
4. The Wife, The Kids, And the White Picket Fence
5. April Fools and Eggman
6. A Seafarer's Knot
7. A Wolf Descends Upon the Spanish Sahara
8. Walls of Jericho
9. Tall Tales Taste Like Sour Grapes
10. Upgrade Brigade
11. Say When
https://zenekucko.com/01476
Találatok: 67