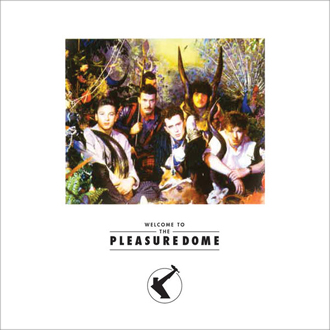 A Frankie Goes To Hollywood sztorija Liverpoolból indult, Steve Howe Yes-gitáros és Trevor Horn volt Yes billentyűs, itt "lemeztulaj" segítségével. Az Echo & the Bunnyment is kitermelő posztpunk-színtér terméke volt, de kezdetben nem sok jel utalt rá, hogy hasonló sikereket érne el. A zenekar a kortársaihoz hasonlóan számos tagcserén átment, mire 1982 végére stabilizálódott: az énekes, Holly Johnson (ő legalább a városban ismertnek számított, hiszen a Big In Japan nevű kultikus punkzenekarban kezdte) mellett Paul Rutherford vokalista-háttértáncos, Brian Nash gitáros, Mark O'Toole basszgitáros és Peter Gill dobos alkották a tagságot.
Annak már majdnem negyven éve, hogy a Relax a brit slágerlista élére került. A dal a nyolcvanas évek egyik legnagyobb slágere lett, pedig betiltották, ám a Frankie Goes To Hollywood villámgyorsan bevette az egész világot, hogy aztán az őrület ugyanolyan gyorsan el is múljon. A dal hatása azonban sokkal komolyabb volt a többi korabeli slágerénél. Miért volt mérföldkő a Relax, és kinek volt a legtöbb köze a sikerhez? A zenekarnak, a producernek, az újságírónak vagy az erénycsősz BBC-nek? Vagy éppen Holly Johnson homoszexualitásnak? (Itt bővebben)
Viszont ez az egyéves tündöklés valódi vízválasztó volt a poptörténelemben. A zenekar egyszerre volt a punk utolsó robbanása, miközben évtizedekre előre meghatározta, miről fog szólni a popzene. Az ügyes producerek és a találékony marketing; a zenéhez csak az arcukat adó együttesek, és az évtized második felét meghatározó samplingtechnika mind-mind ilyenek voltak.
01. The World Is My Oyster / Well / Snatch Of Fury
02. Welcome To The Pleasuredome
03. Relax
04. War
05. Two Tribes
06. (Tag)
07. Fury
08. Born To Run
09. San Jose
10. Wish The Lads Were Here
11. The Ballad Of 32
12. Krisco Kisses
13. Black Night White Light
14. The Only Star In Heaven
15. The Power Of Love
16. Bang…
További közreműködők:
Jeczalik J. J. – billentyűsök, programozás, szoftver (Art of Noise)
Andrew Richards – billentyűs hangszerek
Luís Jardim – ütőhangszerek
Anne Dudley – billentyűs hangszerek, vonós hangszerelés a "The Power of Love" (Art of Noise)
Stephen Lipson – gitár (Propaganda)
Steve Howe – akusztikus gitár "Welcome to the Pleasuredome" (Yes)
Trevor Horn – háttérének, basszusgitár (The Buggles, Yes)
Producer: Trevor Horn
Hangmérnökök – Stuart Bruce, Steve Lipson
Mastering – Ian Cooper
http://justpaste.odavisz.cam (klikk)
PS:
Az 1001 Albums You Must Hear Before You Die (1001 lemez, amit hallanod kell, mielőtt meghalsz) sorozat 532-ik lemeze.
---
---
---
Találatok: 110