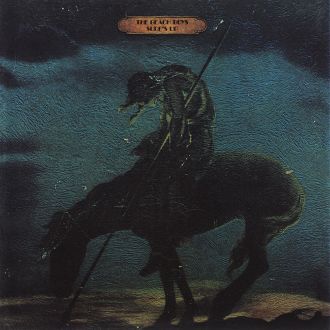 Az 1001 Albums You Must Hear Before You Die (1001 lemez, amit hallanod kell, mielőtt meghalsz) sorozat kettőszáztizenhetedik (217) lemeze az amerikai Beach Boys tizenhetedik stúdióalbuma.
A tengerparti fiúk a kaliforniai Hawthorne-ban alapították 1961-ben a kilencvenes évek elejéig kisebb nagyobb megszakításokkal működő, igen kedvelt és sok más muzsikusra hatást gyakorló együttest. Három testvér Brian hangszerelő, komponista, Dennis dobos és Carl Wilson gitáros; sógoruk Mike Love énekes és Al Jardine nevű iskolatársuk gitáros, valamint Bruce Johnstom basszusgitáros és orgonista a felállás. Megzenésítették a hullámlovaglást, a surfot, és ezzel valamiféle új fogalmat alkottak. Frenetikusan felépített, többszólamú és kristálytiszta vokálok, ifjonti lendület, egyszerű de zseniális dallamok. Különösen az ének-kórus technikájuk ütött el a többi zenekartól. Nagy slágerek egész sorát gyártották: 64-ben Fun Fun Fun, 65-ben Help Me Rhonda, 67-ben Barbra Ann, Sloop John B. De mindezek közül is kiemelkedik az igazi nagy klasszikus szerzemény, a Good Vibrations, amellyel szinte minden idők egyik legszínvonalasabban hangszerelt és énekelt előadószámát hozták létre. 1969-ben már a huszadik nagylemezük jelent meg 20/20 címmel. Turnéik mindig nagy érdeklődésre tartottak számot, általában 40-60 ezer néző előtt játszottak. Zenéjük az idők folyamán lépést tartott a divattal, megtartva azonban azt ami hangzásban mindig is jellemző volt rájuk. Rod Stewart szerint: "minden idők legidőtlenebb popzenéje". (Kovács Mihály)
A dalok:
01. "Don't Go Near the Water" Mike Love/Al Jardine 2:39
02. "Long Promised Road" Carl Wilson/Jack Rieley 3:30
03. "Take a Load Off Your Feet" Jardine/Brian Wilson/Gary Winfrey 2:29
04. "Disney Girls (1957)" Bruce Johnston 4:07
05. "Student Demonstration Time" Jerry Leiber/Mike Stoller/Mike Love 3:58
06. "Feel Flows" C. Wilson/Rieley 4:44
07. "Lookin' at Tomorrow (A Welfare Song)" Jardine/Winfrey 1:55
08. "A Day in the Life of a Tree" B. Wilson/Rieley 3:07
09. "'Til I Die" B. Wilson 2:41
10. "Surf's Up" B. Wilson/Van Dyke Parks 4:12
A zenészek: Al Jardine – lead, harmony and backing vocals; electric guitar; moog; acoustic guitar; bass; percussion; Bruce Johnston – lead, harmony and backing vocals; upright piano, moog bass; mandolin; Mike Love – lead, harmony and backing vocals; tambourine; Brian Wilson – lead, harmony and backing vocals; piano, harmonium, roxichord; snare drum, percussion; harmonica; sound effects; Carl Wilson – lead, harmony and backing vocals; electric guitar, acoustic guitar, bass guitar; moog, harpischord, organ; drums, tambourine, percussion; Dennis Wilson – harmony and backing vocals; drums
+
Steve Desper – sound engineer; moog, moog bass; Daryl Dragon – rhythm guitar, bass, tack piano; Mike Kowalski – drums; Charles Lloyd – saxophone, flute; Van Dyke Parks – lead, harmony and backing vocals; Jack Rieley – lead, harmony and backing vocals; Woody Thews – percussion; Gary Winfrey – harmony and backing vocals.
https://zenekucko.com/05129
Találatok: 53