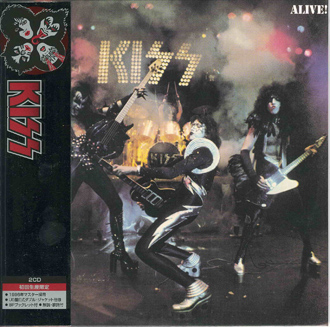 Az 1952-ben alapított brit könnyűzenei szaklap, a New Musical Express (NME) összegyűjtötte és rendszerezte a legjobb koncertalbumokat The 50 Greatest Live Albums Ever cím alatt. Ez az album a 10-ik a listán.
A Rolling Stone korabeli kritikájában az amerikai Black Sabbathként jellemezte az együttest.
Kétségtelen, hogy az 1970-es évek közepén/végén a KISS adta a leglátványosabb arénakonceteket. A zenekar tagjai eltitkolták kilétüket, maszkot és képregény-hős jelmezt öltöttek. Az első koncertjeik alkalmával elidegenítették a sajtót, kivívták a szülők felháborodását, és sikerült megnyerniük New York rockrajongóinak nem múló rokonszenvét. Az együttes tagjai nem hagyták magukat maszk nélkül lefotózni vagy meginterjúvolni. A Marvel két képregényt adott ki rólúk. Az együttes rajongótáborát nagyrészt tizenéves fiatalok (vagy még kisebbek) alkották, akik nagy része nem a zene, hanem az együttes megjelenése miatt kedvelte a zenekart.
A népszerűség azonban csak 3-4 évig tartott, mivel 1979-től a punk és az új hullám valamint a diszkó térhódítása révén az együttes sikergörbéje kezdett lefelé ívelni. Az új stílusok megjelenése idején már elmúlóban volt a "KISS varázs", és az együttes látványban, külsőségekben sem volt képes tovább fokozni az érdeklődést. A Dynasty album diszkós irányvonalával megpróbáltak váltani, de az album turnéján már gyakran léptek fel félig telt koncerttermekben.
1.CD
01. Deuce
02. Strutter
03. Got To Chose
04. Hotter That Hell
05. Firehouse – Livo
06. Nothin' To Lose
07. C'Mon And Love Me
08. Parasite
09. She
2.CD
1-10. Watchin' You
2-11. 100,00 Years
3-12. Black Diamond
4-13. Room Service
5-14. Rock Bottom
6-15. Gold Gin
7-16. Rock And Roll All Nite
8-17. Let Me Go, Rock'n'Ro
Peter G. Criscoula (Pete Criss) – Dob, ének
Stanley H. Eisen (Paul Stanley) – gitár, ének
Paul D. Frehley (Ace Frehley) – gitár
Chaim Witz (Gene Simmons) – basszus, ének
https://pastebin.odavisz.cam (klikk)
mp3 320 1.CD -LINK-
mp3 320 2.CD -LINK-
………………………………………………………………………………………………………….
---
---
---
---
Találatok: 82