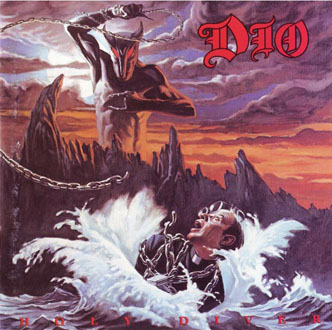 "A Rainbow dallamvilágát akartam kombinálni a Black Sabbath súlyával, keménységével. Európai stílusú rockot szerettem volna játszani a saját kis dallamaimmal, és egyben túl is akartam lépni azt a határt, amelynél a Black Sabbath a Mob Rules album után megtorpant." – R.J. Dio
A zene valóban a Rainbow és a Black Sabbath metszéspontján helyezkedett el, de Campbell szikrázó gitárjátéka alapvetően tért el mind Blackmore, mind Iommi stílusától: mindkettejüknél modernebben, napfényesebb stílusban hozta magát, amivel új dimenziókat adott a daloknak.
Ronnie James Dionak úgy sikerült új lendületet adnia a Black Sabbathnak, hogy gyökeresen eltérő karakterként állt helyt a zenekar élén egy pótolhatatlannak tűnő frontember posztján. Az 1980-as Heaven And Hell és az 1981-es Mob Rules lemezeket nem csak a szakma imádta, hanem a közönség is, és úgy tűnt, a zenekar megállíthatatlan Dióval a fronton. Az élet azonban mégis más irányba vitte az énekest: a Live Evil című koncertalbum keverési munkálatai okán végleges kenyértörés következett be Tony Iommi és Ronnie között.
Noha néhány évvel később mindkét fél elismerte, hogy méltatlanul viselkedett, és ostobaságokat nyilatkozott a másikról, a kocka el volt vetve: Dionak nem volt más választása, mint szólókarrierbe kezdeni. Az első perctől fogva egyértelmű volt, hogy Vinny Appice dobos vele tart majd az úton, a ritmusszekciót pedig régi Rainbow-beli cimborája, Jimmy Bain tette teljessé. A legkritikusabb poszt persze a gitárosé volt, mivel Ritchie Blackmore és Tony Iommi után nem lehetett akárkit bevenni a csapatba: maga az énekes is tudta, hogy akárkit is állít maga mellé, az illetőt óhatatlanul is a két gigászhoz mérik majd. Ronnie és a menedzseri tisztet is betöltő felesége, Wendy az elejétől fogva egy fiatal gitárosban gondolkodott, és választásuk az első körben Jake E. Lee-re esett. A Lee-vel való együttműködés ugyanakkor nem tartott sokáig, miután a gitáros 1982 végén visszautasíthatatlan ajánlatot kapott Dio legfőbb mumusától, Ozzy Osbourne-tól, hogy álljon az elhunyt Randy Rhoads helyére.
Lee távozása kellemetlen kényszerhelyzetbe hozta Ronnie-t, szimata azonban nem csalta meg: egy rövid, de annál intenzívebb kereső szakasz után végül egy fiatal, ír származású gitárost vett be a DIO elnevezésű szólócsapatba Vivian Campbell személyében.
/shockmagazin.hu/
01. Stand Up And Shout
02. Holy Diver
03. Gypsy
04. Caught In The Middle
05. Don't Talk To Strangers
06. Straight Through The Heart
07. Invisible
08. Rainbow In The Dark
09. Shame On The Night
Ronnie James Dio – ének, billentyűk
Vivian Campbell – gitár
Jimmy Bain – basszusgitár, billentyűk
Vinny Appice – dobok
https://direct.kraken_USA,_9_23836-2,_Warner_Bros.cam (klikk)
http://filedodge.mp3320.cam (klikk)
---
---
---
Találatok: 175