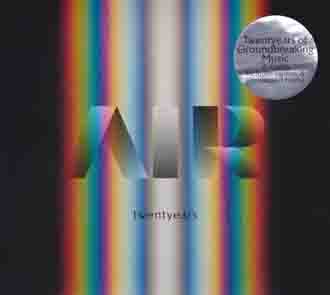 Franciaország, Versailles. Nicolas Godin és Jean-Benoît Dunckel. Az együttes neve egy szóösszetételből, a francia Amour, Imagination, Rêve szavakból származik, amely magyarul annyit tesz: szerelem, fantázia és álmok.
Az AIR elektronikus zenéjét leginkább Jean Michel Jarre, a Vangelis és Francis Lai '70-es években játszott szintetizátoron előadott zenéje inspirálta . Az együttesre hatással volt továbbá a pszihedelikus rock egyik legnagyobbja, a Pink Floyd is.
Az AIR sok hangszert használ, főleg élő koncerteken, amikor nagyobb hangsúlyt kap a zene improvizatív része, és szívesen vonnak be vendégzenészeket is. Ez a dupla album retrospektív visszatekentés az elmúlt 20 év zenei termésére. Az első diszken a legismertebb dalok vannak, míg a második diszk eddig meg nem jelent ritkaságokat és élő fellépéseket tartalmazza.
CD1 Best Of
01. La femme d'argent
02. Cherry Blossom Girl
03. Kelly Watch The Stars
04. Playground Love (with Gordon Tracks)
05. Sexy Boy
06. Venus
07. All I Need
08. Alpha Beta Gaga (Single Edit)
09. Moon Fever
10. Don't Be Light (feat. Beck Hansen)
11. How Does It Make You Feel
12. Once Upon a Time
13. Alone in Kyoto
14. Talisman
15. Run
16. Le soleil est pres de moi
17. Land Me (feat. Guillemette Foucard)
CD2 Rarities
18. Planet Vega
19. Flowerhead
20. Crickets
21. The Duelist (feat.Charlotte Gainsbourg & Jarvis Cocker)
22. High Point
23. Au fond du reve dore
24. Danger Zone
25. Indian Summer
26. The Way You Look Tonight
27. Roger Song
28. J'ai dormi sous l'eau (BBC Session 1998)
29. Remember (David Whitaker Version)
30. Trente millions d'amis (Live KCRW 98)
31. Adis Abebah (From the Soundtrack of 'Quartier Lointain'
https://tinyurl.com/2p8sfwam
/pastebin/
…………………………………………………………………………………………………………………….
---
---
---
Találatok: 81