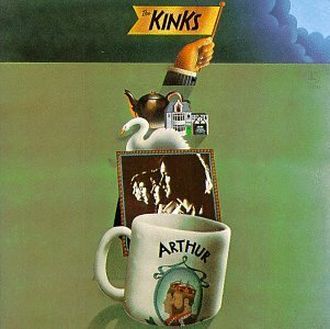 Az 1001 Albums You Must Hear Before You Die (1001 lemez, amit hallanod kell, mielőtt meghalsz) sorozat százhatvanhetedik (167) lemeze a brit The Kinks együttes hetedik nagylemeze.
Az angol The Kinks együttes 1964-ben Little Richard egyik dalával, a Long Tall Sally című szerzeménnyel debütált, de a kislemez gyenge eladási mutatókat produkált.
Viszont harmadik daluk a You Really Got Me Angliában listavezető lett, amit elősegített fellépésük az angol TV-műsorban a Ready Steady Go-ban.
A következő két évben Ray Davies meglepően eredeti dalszerzővé nőtte ki magát, a csapat számai pedig sorra felkerültek a sikerlisták legjobbjai közé. 1965-ben újra a listák élére álltak , a Tired Of Waiting For You-val.
A Dedicated Follower Of Fashion remek szatíra a nárcisztikus Carnaby Streetről (a 60-as években népszerű divatipari központ), a Sunny Afternoon (szintén listavezető Angliában) pamflet a kapitalizmusról, a Dead End Street pedig a szegénység balladája. Kezdeti albumaikon rendre megtalálhatóak az R&B standard számai és eredeti anyagok Daviestől.
A Face To Face és a Something Else azonban Davies kísérlete az angol karakter újra fogalmazására, amit higgadtan, sziporkázó szellemességgel tesz meg. Egyik legnagyszerűbb dala az egyszerű, de érzelmes és mégis erőpróbának szánt Waterloo Sunset, a Something Else utolsó felvétele.
A szám éppencsak lecsúszott a dobogó legfelső fokáról, akárcsak a lágy refrénű Autumn Almanac. 1968-ra a Kinks népszerűsége hanyatlásnak indult Angliában, bár a kritikusok továbbra is pozitívan értékelték őket.
Két remek konceptalbum, The Kinks Are The Village Green Preservation Society és az Arthur (Or The Decline And Fall Of The British Empire) érthetetlen módon eladhatatlan maradt, annak ellenére, hogy Davies legkiválóbb dalai közül több is szerepel a korongokon. (Jellemző, hogy a két lemez 2004-es újrakiadását viszont elkapkodták a vásárlók.) (literatura.hu)
A Davies testvérek nővére Rose, 1964-ben férjével, Arthur Anning-gal Ausztráliába emigrált, s részben ez, a testvérek számára fájdalmas eset ihlette a lemez történetét.
A dalok:
01. Victoria – 3:40
02. Yes Sir, No Sir – 3:46
03. Some Mother's Son – 3:25
04. Drivin' – 3:21
05. Brainwashed – 2:34
06. Australia – 6:46
07. Shangri-La – 5:20
08. Mr. Churchill Says – 4:42
09. She's Bought a Hat Like Princess Marina – 3:07
10. Young and Innocent Days – 3:21
11. Nothing to Say – 3:08
12. Arthur – 5:27
A zenészek:
Mick Avory – drums, percussion
John Dalton – bass guitar, background vocals
Dave Davies – lead guitar, co-lead vocal on "Australia" and "Arthur", lead vocals, background vocals
Ray Davies – lead vocals, rhythm guitar, keyboards (harpsichord and piano), production
+
Lew Warburton – horn and string arrangements
https://zenekucko.com/04813
Találatok: 42