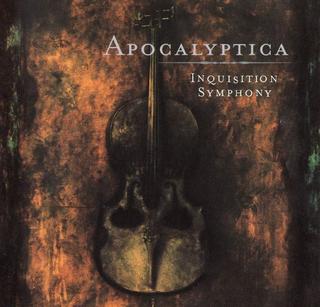 Első lemezük, az 1996-ban megjelent Apocalyptica Plays Metallica for Four Cellos még csak elsőszámú kedvencük dalait dolgozta át a 16 húrra, a két évvel későbbi Inquisition Symphony azonban már a heavy-metál szélesebb spektrumát rajzolta fel nem kevés hangjegyből. "Ez a lemez tisztán megalkotott túláradó zajt és eufónikus melódiákat tartalmaz" – figyelmeztetnek a CD-füzetben.
A címadó darab, amelyben szinte várjuk, hogy megjelenjen a hírhedt nagy inkvizítor, Tomás de Torquemada az eretnekek máglyáitól lángoló XV. századi Spanyolország és kínzókamrák rémképével a hátterében, a bevezetésben elénk tárja egy készülő halálraítélt utolsó perceit, majd a tűznyelvek az egekig csapnak, egyre több oldalról, egyre gyorsabban, egyre fájdalmasabban. Az eredeti darab a brazil Sepultura trasher-banda műve volt. Ugyancsak Ibériába visz a Torreador, Eicca darabja inkább hemingway-i, mint turistáknak való hangulatot áraszt. Toppinené a bevezető Harmageddon, csatajelenet a javából, valamint az M.B. is, egyfajta morbid scherzo, misztikus-keleties beütéssel. A Sepulturát sem ússzuk meg ennyivel: a Refuse/Resistben még azt a "homokot nyelt éneket" is tudják a vonókkal utánozni, amely annyira jellemző a trashre. Kap egy dalt, már-már játékosat, a Faith No More (From Out Of Nowhere), és törnek-zúznak-sivítoznak-fűrészelnek a Pantera nevében (Domination).
Antero Manninen, Eicca Toppinen, Max Lilja, Paavo Lötjönen – cselló
Tracklist:
01 – Harmageddon
02 – From Out Of Nowhere
03 – For Whom The Bell Tolls
04 – Nothing Else Matters
05 – Refuse / Resist
06 – M.B.
07 – Inquisition Symphony
08 – Fade To Black
09 – Domination
10 – Toreador
11 – One
Külön köszönet Nagygazemberimi-nek a lemezért és az eredeti feltöltésért!
https://tinyurl.com/y6se954n
Hits: 39